Palestine
11 Kidnapped in West Bank and Jerusalem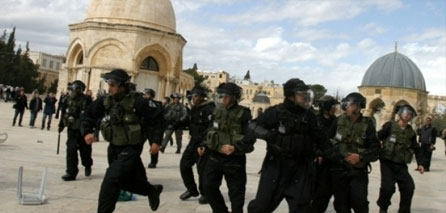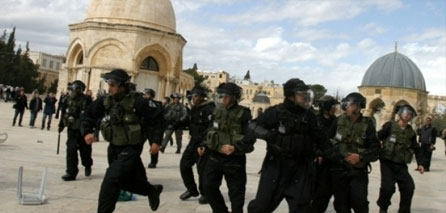 Israeli forces kidnapped four Palestinians, including two minors, from Al Khalil area, in addition to seven others from inside the yards al-Aqsa mosque in Jerusalem, according to reports by security forces and witnesses.
A group of settlers, under the protection of special Israeli police, stormed the courtyards of Al-Aqsa Mosque from the Mughrabi (Moroccan) Gate, roaming the yards of the mosque and performing Talmudic rituals, provoking Palestinian worshipers who chanted prayers protesting their entry to the holy sites, according to WAFA Palestinian News & Info Agency.
Israeli police "intervened" and abducted seven worshipers, when they attempted to stop the settlers, upon which police led the to a nearby detention and interrogation center in Jerusalem.
Meanwhile, in Al Khalil area, Israeli forces invaded a camp while firing tear gas and sound bombs and setting fire to the nearby fields, taking with them three Palestinians aged 12, 15, and 18.
The army also raided Beit Ummar town to the South of Al Khalil and detained a 28-year-old Palestinian, WAFA reports.
Several houses in the town were also raided and searched.