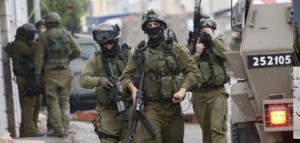 This week, the Zionist forces injured 15 Palestinians throughout the West Bank, compared to 21 injuries last week and slightly below the 2009 weekly average of 17 Palestinian injuries.
Eight of this week's injuries, including the injury of two boys, occurred during the weekly anti‐Barrier protests held in Bil'in village and a protest against the expansion of "Hallamish" settlement in the Ramallah area.
Another three Palestinians sustained injuries when shot by Zionist forces in two separate incidents, including a confrontation in Al Jalazun Refugee Camp (Ramallah) between stone-throwing Palestinians and Zionist forces and an incident involving farmers and internationals planting trees in the Al Rish Valley, an area previously declared closed by the military.
The remaining four Palestinians were wounded when physically assaulted by Zionist forces in a raid on Al Arroub Refugee Camp in Al Khalil governorate, while trying to access the Zionist entity without a permit and while working the land in the vicinity of the Beitar Ilit settlement in the Bethlehem governorate.
Zionist forces conducted 100 search operations inside Palestinian villages, the majority of which took place in the northern West Bank, slightly below the weekly average during 2009.
Also this week, in an arrest operation carried out in Al Khalil City, Palestinian Authority (PA) security forces clashed with family members of a suspected member of the armed wing of Hamas, in an incident involving extensive exchanges of fire; five family members, excluding the suspect, were arrested.