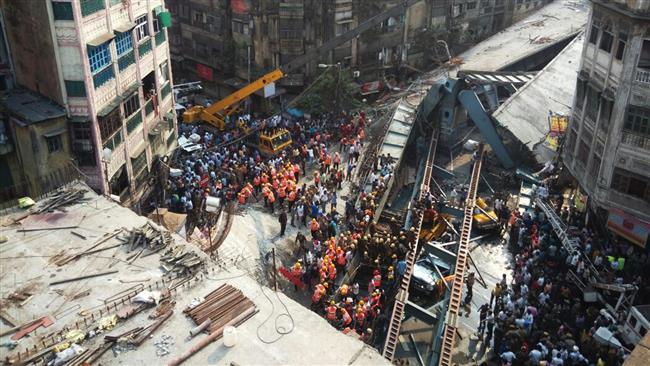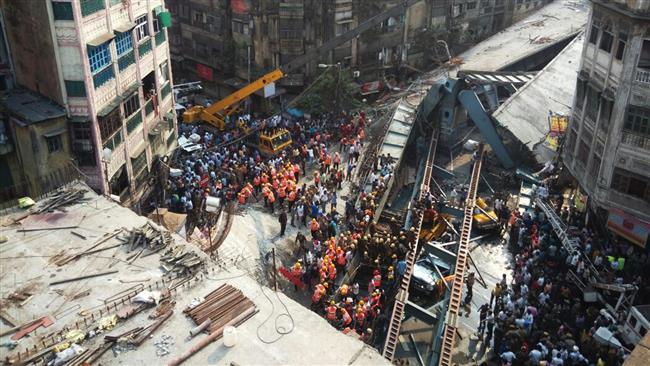 A flyover under construction in the eastern Indian city of Kolkata has collapsed, leaving at least 17 people dead with scores of people trapped beneath the wreckage of the overpass.
India's National Disaster Management Authority spokesman Anurag Gupta confirmed the deaths, saying that the "rescue operation is still on as many people are trapped under the debris." At least 50 people were also injured in the incident.
The incident occurred on Thursday after the flyover, a 100-meter-high structure of metal and cement, crashed down on moving traffic below in a busy commercial district near Kolkata's Girish Park.
Army troops have been deployed to the site to clear the rubble and help rescue those trapped in cars, trucks and other vehicles, which lay under massive concrete blocks and metal debris.
A 140-tonne crane was brought to the scene, but it was not able to lift the concrete slab.
"Monumental tragedy. Rescue ops on. Many feared dead," Derek O'Brien, spokesman for the left-wing party that governs the state of West Bengal with Kolkata as its capital, said in a tweet.
The Indian company, IVRCL Ltd was supposed to complete the construction of the 2-kilometer (1.2-mile) Vivekananda Road overpass three years ago, but it has missed several deadlines to finish the project.
According to reports, Chief Minister Mamata Banerjee had called for the project to be completed by February.
Akhilesh Chaturvedi, a senior police officer, said that 15 people, who were critically injured, had been rescued.
"Most were bleeding profusely. The problem is that nobody is able to drive an ambulance to the spot," Chaturvedi added.
India's Home Minister Rajnath Singh also announced that rescue teams would be rushed to the scene of the deadly incident.
Building collapses are common in India, where builders use substandard materials and poorly enforce regulations.