Asia-Pacific
18 sailors trapped after explosion inside Indian submarine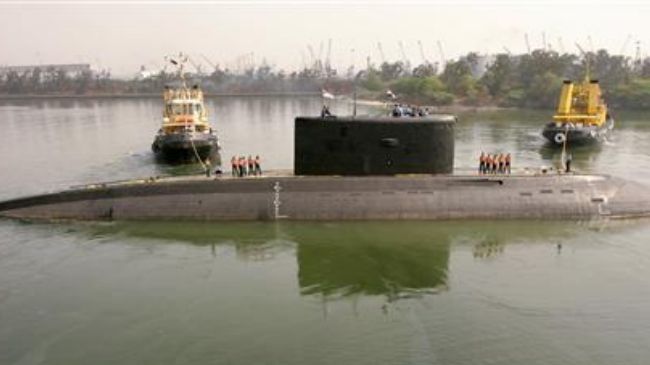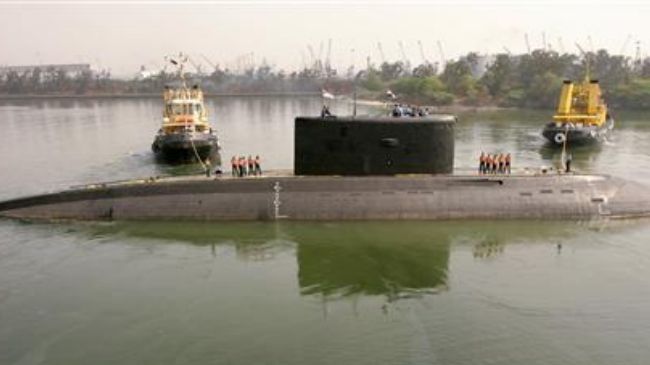 An explosion inside an Indian submarine berthed at the coastal city of Mumbai, has entrapped about 18 sailors, the navy says.
The Russian-made submarine, INS Sindhurakshak, partially sunk early Wednesday, after catching on fire following the explosion at the naval dockyard.
"There are some people who are trapped on board; we are in the process of trying to rescue them. We suspect it to be in the range of 18," navy spokesman PVS Satish said on Wednesday.
Rescue teams and nearly a dozen fire engines have been deployed to the scene to save the trapped sailors and control the blaze.
Navy spokesperson Narendra Vispute said that efforts are being made to rescue the sailors and salvage the 16-year-old diesel-electricity submarine.
The cause of the explosion remains unknown and an investigation is under way.
There have been no reports of casualties so far.
According to Rahul Bedi, an analyst for the independent Jane's Information Group, the submarine had recently returned from Russia following an overhaul and upgrade.
The incident comes shortly after India announced that it had launched its first domestically produced aircraft carrier. New Delhi also said that it had started sea trials for its first Indian-made nuclear submarine.
The country launched the 37,500-ton INS Vikrant from a shipyard in the southern state of Kerala on August 12.
The five-billion-dollar carrier can hold a crew of 1,450, Russian-made Kamov helicopters, MiG 29K fighter jets and light-combat aircraft.
In 2012, India's navy acquired a Russian Nerpa nuclear submarine, costing USD 1 billion.
On August 10, India also launched an atomic reactor for its domestically produced nuclear submarine.
Over the past years, India has been expanding its armed forces in order to upgrade its largely Soviet-era weaponry