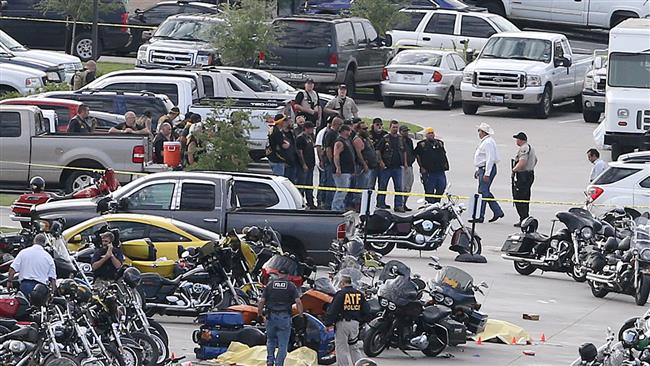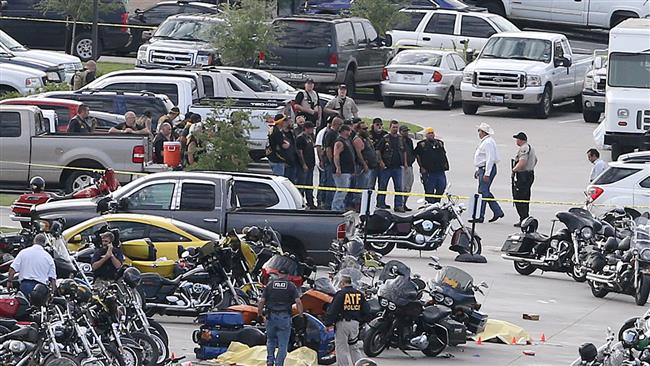 Nearly 200 suspected gang members were arrested after rival motorcycle gangs turned on each other in the city of Waco, Texas, on Sunday afternoon. 
Nine people died in the incident — eight at the scene and one at the hospital. At least 17 were hospitalized.
Authorities said all those who died were members of the Bandidos or Cossacks biker gangs.
As many as five rival gangs had gathered at the Twin Peaks restaurant in the Central Texas Market Place to settle their differences.
But the meeting soon turned violent when a fistfight escalated into a deadly brawl, where gang members unleashed a hailstorm of bullets and knives outside a major parking lot.
The lunchtime shooting sent witnesses scrambling for cover outside the restaurant.
Even before the brawl began, police were already in place in anticipation of trouble.
Police said 192 suspected gang members were taken into custody and processed Monday on charges of engaging in organized crime.
"This was a true gang fight that occurred at this location," Waco Police Sgt. Patrick Swanton said at a Monday morning news conference.
"In my nearly 35 years of law enforcement experience, this is the most violent and gruesome scene that I have dealt with," he said.
The Texas Alcoholic Beverage Commission also suspended the Twin Peaks restaurant for seven days over the incident.
"That is a big deal for us, knowing that Twin Peaks will be shut down for seven days and knowing we will not have to worry about an event occurring here for at least seven days," Swanton said.