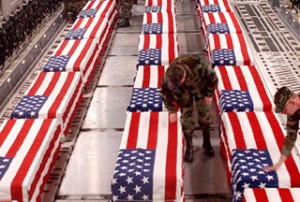 Two more NATO soldiers, one of them an American, have died of wounds in Afghanistan after Saturday's attack resulted in the death of eight US soldiers.
NATO said in a statement on Monday that the US soldier died of wounds acquired during an attack on Sunday in southern Afghanistan.
According to the statement, a second service member, whose nationality has not been disclosed, died of wounds from a roadside bombing on Monday in southern Afghanistan.
The eight soldiers, who were killed in the country's eastern sector on Saturday, were serving under ISAF command.
The growing number of troop fatalities emphasize the current year as the deadliest for NATO forces since the launching of the invasion in 2001.
Despite the presence of the US-led International Security Assistance Forces (ISAF) and NATO troops in Afghanistan, insurgency has risen.
Some 1,500 civilian casualties were recorded between January and August, with August being the deadliest month since the beginning of 2009, according to the UN Assistance Mission in Afghanistan's statement issued on Sept. 25.
In 2001, the US invaded Afghanistan to allegedly eradicate the militancy and arrest its leaders. Since that time, none of the senior al Qaeda or Taliban leaders have been arrested or killed.