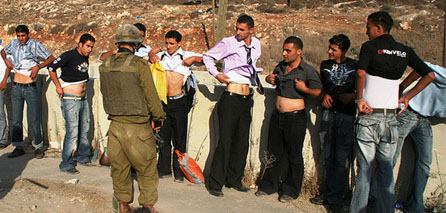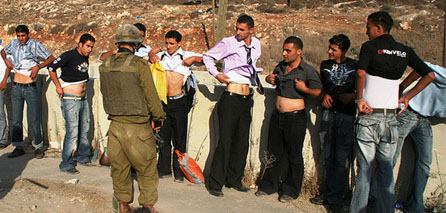 The higher national committee for the support of prisoners reported that the Israeli occupation forces (IOF) kidnapped last month 280 Palestinian citizens in the occupied territories of the West Bank and Jerusalem.
In its monthly report, the committee stated that 43 children, three women and two lawmakers were among the detainees kidnapped last month.
The report pointed out that the IOF kidnapped a 55-year old woman from Al-Khalil city called Shahira Burqan, a mother of four Palestinian prisoners in Israeli jails. Her detention is aimed at pressuring her sons to make certain confessions and she is still in prison.
A paralyzed citizen (paraplegic) called Nader Musalima was also among those detainees. He was crippled as a result of his exposure to torture at the hands of Israeli interrogators during his first detention.
The report also highlighted many violations committed against the prisoners during the reported month, especially the medical neglect policy that is pursued by the Israeli prison administrations.
In a separate incident, the Israeli administration of Nafha prison isolated prisoner Yasser Abu Turkey who is serving life imprisonment on a charge of leading Al-Aqsa Brigades in Al-Khalil.
The administration also took a number of punitive measures against him and banned him from seeing his family for two months, according to the Palestinian prisoner society on Saturday.
The society affirmed that the incarceration conditions inside this jail are very harsh, and the administration brutally deals with the detainees and refuses to listen to their just demands.