Egypt
29 killed, dozens hurt in Egypt clashes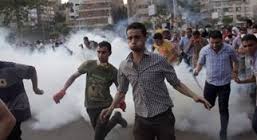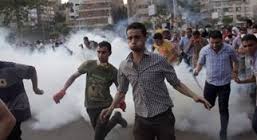 The Egyptian Health Ministry says at least 29 people have been killed and dozens injured in the country during clashes between security forces, opponents and supporters of ousted President Mohamed Morsi.
Publish date : Sunday 26 January 2014 11:12Code: 151260
29 killed, dozens hurt in Egypt clashes
On Saturday, tens of thousands of Muslim Brotherhood activists and their supporters staged nationwide demonstrations to mark the anniversary of the 2011 revolution that toppled former dictator Hosni Mubarak.
The demonstrators demanded Morsi's reinstatement and called for the release of Brotherhood activists arrested by police. They also chanted slogans against army chief General Abdel Fattah al-Sisi.
Clashes between protesters and security forces broke out in several cities. Police used violent force against demonstrators. A number of pro-coup protesters also attacked Morsi's supporters with stones as well as bullets.
The deaths were reported in the cities of Cairo, Alexandria, Giza and Minya. Most of the fatalities occurred in the capital and its suburbs.
At least 300 protesters were reportedly arrested across the nation.
Egypt has been experiencing unrelenting violence since July 3, when the army toppled Morsi's government, suspended the constitution, and dissolved the parliament. It also appointed the head of the Supreme Constitutional Court, Adly Mahmoud Mansour, as the new interim president.
The interim government has launched a bloody crackdown on Morsi's supporters and arrested thousands of Brotherhood members, including the party's senior leaders.
Egyptian universities have also been the scene of violent clashes, with students calling for the reinstatement of Morsi and demanding an end to the crackdown on Brotherhood supporters.
On December 25, the military-appointed government listed the movement as a "terrorist" organization over alleged involvement in a deadly bombing, without investigating or providing any evidence.
On Wednesday, Amnesty International criticized Egyptian authorities for using an "unprecedented scale" of violence against protesters and dealing "a series of damaging blows to human rights."
According to the UK-based rights group, 1,400 people have been killed in the political violence since Morsi's ouster, "most of them due to excessive force used by security forces."