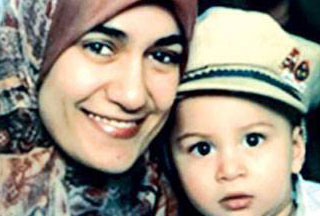 Another Iranian university has announced the decision to offer a scholarship to women who have been denied the right to education for observing the Islamic dress code.
The scholarship named after Marwa el-Sherbini, the three-month pregnant Egyptian woman, who was stabbed 18 times to death in a German court in July.
Shiraz University is the second Iranian academic institution that plans to offer the scholarship, after Kashan University, which first introduced the idea earlier this month.
Iranian President Mahmoud Ahmadinejad has welcomed the decision and said that the scholarship can provide an opportunity for Muslim women who are not allowed to study in Europe, because they wear Hijab, to continue their studies.
"The Sherbini scholarship is a valuable reaction to the West's destructive cultural attack," Ahmadinejad said during a Tuesday night speech in the city of Shiraz in Fars Province.
El-Sherbini was killed while testifying against Axel W. in an appeal court. The defendant approached the witness stand during the hearing, stabbed Marwa 18 times in front of her three-year-old son, the jury and other court officials.