Human Rights
North America
3 New York officers have died by suicide in less than 10 days
Three officers from the New York Police Department have died by suicide in less than 10 days, a growing problem that the NYPD chief has called a "mental-health crisis."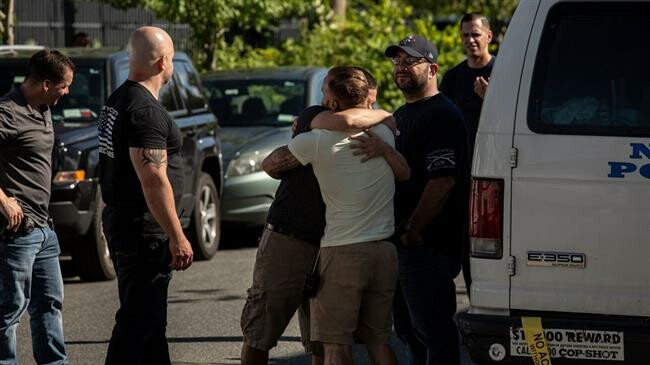 NYPD Commissioner James O'Neill said Friday that a 29-year-old police officer who had been with the department for six years died behind the NYPD precinct in Staten Island, where he worked.
Last week, a police precinct chief and an experienced detective died within 24 hours of one another, O'Neill said.
"This is a mental-health crisis. And we — the NYPD and the law enforcement profession as a whole — absolutely must take action," O'Neill said in a statement.
"This cannot be allowed to continue. Cops spend so much of their days assisting others. But before we can help the people we serve, it is imperative that we first help ourselves," he added.
The commissioner sent an open letter to police department members last week, urging them to seek help.
"Seeking help is never a sign of weakness — it's a sign of great strength. Trained members will listen and connect you with even more help, around the clock. I implore you to seek out — or to help others find — the assistance that is so readily available to us all," the letter said.
New York City Mayor Bill de Blasio also expressed concern about police suicides, saying Friday the city is "mourning the loss of another officer gone too soon."
"All of them led lives that made their communities better. All of their lives had meaning," the mayor said in a statement.
"I want every member of the NYPD to know: your city is here for you. You are not alone. Help is here. Reach out. We are working with the Police Department to continue to put resources front and center, and that our officers have every possible support."
Four members of the NYPD have killed themselves so far this year, the same number as in all of 2018, according to the New York Times.
US deaths from suicide, alcohol and drugs reach recordRates of deaths from suicides, drug overdoses and alcohol have reached an all-time high in the United States, according to a new report.
Police officers and firefighters are more likely to die by suicide than in the line of duty, according to a study in 2018 by the Ruderman Family Foundation.
The study said there are several barriers preventing first responders from accessing mental health services, "including shame and stigma."
"These same barriers prevent families from talking openly about the suicide of a loved one, thereby contributing to silence and lack of awareness around the issue of first responder suicide," according to the study.
Rates of deaths from suicides, drug overdoses and alcohol have reached an all-time high in the United States, especially among young adults, according to a report published Thursday by the non-profit Trust for America's Health and Well Being Trust.
The report said that drug-related deaths among people 18 to 34 soared 108 percent between 2007 and 2017, while alcohol deaths were up 69 percent and suicides increased 35 percent.