Syria
300 Terrorists Killed in Syrian Army's Massive Operations in Reef Idlib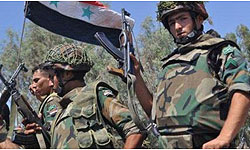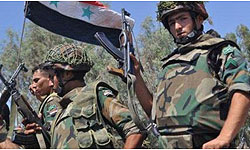 The Syrian army struck a heavy blow to the armed rebels in Reef (outskirts of) Idlib on Sunday and killed hundreds of the terrorists in the area.
The army launched military operations in Kurin town in the outskirts of Idlib today, and killed 300 armed rebels in there, FNA dispatches said.
A larger number of terrorists, who were wounded in the battles with the army, have been sent to neighboring Turkey by their leaders.
Meantime, the Syrian army inflicted similar losses on the terrorists in the towns of Khan Sheikhoun and Moamareh al-Naman in Northern Reef Idlib today.
Terrorists have tried hard in the last few months to make Syrian cities unsafe, specially for citizens, but the army has purged them from most neighborhoods and districts, killed hundreds of them and arrested many more.
Syria has been experiencing unrest since March 2011 with organized attacks by well-armed gangs against Syrian police forces and border guards being reported across the country.
Hundreds of people, including members of the security forces, have been killed, when some protest rallies turned into armed clashes.
The government blames outlaws, saboteurs, and armed terrorist groups for the deaths, stressing that the unrest is being orchestrated from abroad.