North America
Everything Happened in Dallas By VIDEO, PICTURES and INFOGRAPHIC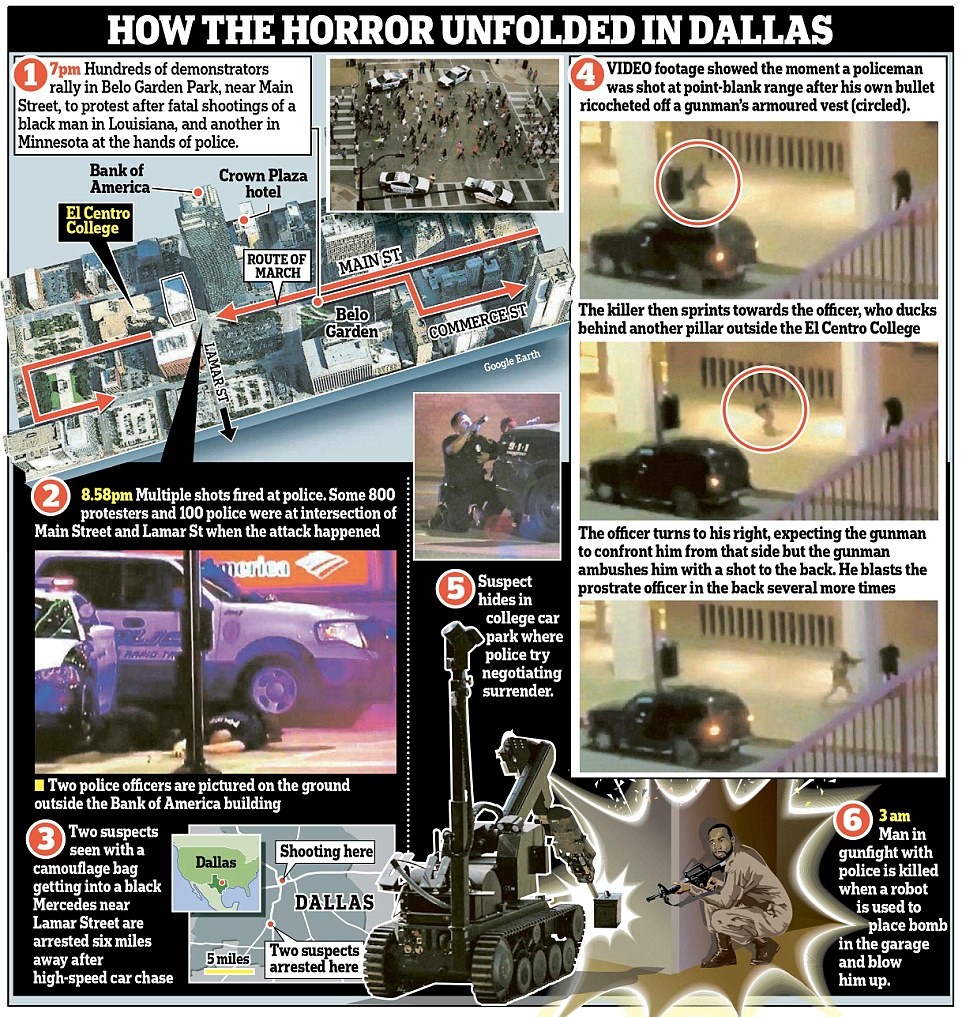 In parts of video gunman shoots police officer on Dallas Street and next part shows woman livestreams moments after police shoot boyfriend in other city.
Castile was shot by an officer in St Paul Minneapolis, on Wednesday after his car was stopped for a routine traffic stop.
His girlfriend, Diamond Reynolds, insisted that police had stopped them for a busted tail light, which she claims wasn't even busted, and that Castile told the officer he had a firearm on him and a license, before the cop began shooting 'for no reason'.
She livestreamed the moments after the shooting on Facebook, showing Castile dying in the front of the car as blood seeped from his chest.
Before Castile, Sterling a street seller in Baton Rouge, was tackled to ground by officers after a 911 call was made allegedly by a homeless man about a black man who had flashed a firearm.
Officers Howie Lake and Blane Salamoni pinned the father-of-five down before firing six shots at Sterling, who had a gun in his pocket but did not appear to make any attempts to take it out during the confrontation.
The huge swell of protests is in response to the shootings of Sterling and Castile, who were shot by police in Louisiana and Minnesota respectively.
Hundreds of people gathered in Times Square and Union Square in New York on Thursday to protest against the shootings, with tensions bubbling over. Dozens of other protests were also held across the country over the two men's deaths.
HOW DALLAS SHOOTING HAPPENED.CLICK FOR BIGER IMAGE
In video you will see man captures chaos of sniper fire and officers shot on ground. Fierce gun battle amid protest in Dallas .parts of footage show man surrender to police after shooter killed.
Dramatic moment protesters flee after shot fired in Dallas.Several officer down as snipers open fire in dallas street.
Also you will see video shows Alton sterling shooting which sparked peaceful protests to shooting on police.
The man who shot 12 police officers, killing five, at a Black Lives Matter protest in downtown Dallas on Thursday night has been named as Micah Xavier Johnson, a 25-year-old Army reservist with no criminal history or ties to terror groups.
Johnson reportedly told law enforcement he was an Army veteran, acted alone and he was 'upset at white people'He told hostage negotiator that he wanted to kill white people – 'especially white officers' but WHY?
TIMELINE OF DALLAS SHOOTING
7pm: Crowd of protesters gather at Belo Garden off Main Street in downtown Dallas.
8:59pm: Just before 9pm, the first shots are heard and protesters flee the scene.
9:05pm: Video captures gunshots ringing out and officers yelling 'active shooter' around the area of San Jacinto and Griffin streets.
9:35pm: First officer is reported down.
9:40pm: Two officers down.
10:23pm: DART police reports four of their officers were shot, including one who died, Brent Thompson.
10:29pm: Chief David Brown reports 10 officers were shot by snipers &that three of those officers died.
10:53pm: Authorities raise number of officers shot to 11. This is revised to 12 on Friday morning.
11:10pm: Shots fired at El Centro College parking garage in stand-off between police and a suspect.
11:13pm: Dallas police announce that a fourth officer has died.
11:27pm: Police say a female suspect has been taken into custody.
1:35am: Police flash-bang device goes off at the scene of the stand-off at El Centro College.
1:47am: Fifth officer reported down.
3:06am: Suspect in stand-off is confirmed dead.