Iraq
4 killed as anti-graft protest rocks Iraq's Najaf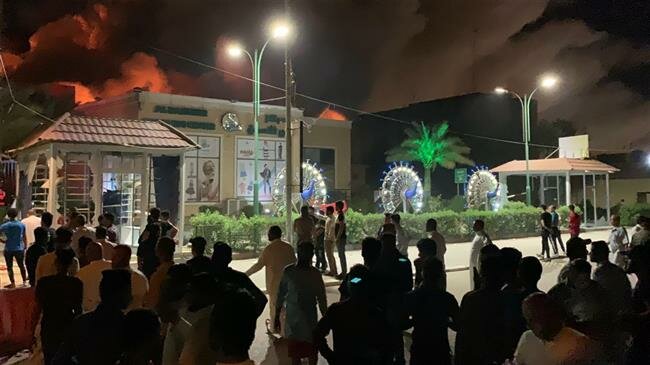 At least four people have been killed in Iraq's holy city of Najaf during an anti-corruption protest called by a political movement led by Shia cleric Muqtada al-Sadr.
Reports said that Wednesday's demonstration turned violent after security guards outside the al-Bashir shopping mall, owned by a former Sadrist, opened fir on the crowd.
The demonstrators, in response, set fire to the mall.
Najaf's Hakim Hospital said that the clashes had left four people dead and 17 others injured.
In a statement released on Thursday, the Iraqi Interior Ministry's security media cell said, "Security forces have arrested five guards of the mall who had opened fire on the protesters."
The mall is owned by Jawad al-Garawi, who is said to have been expelled from the Sadrist movement's ranks on graft charges.
Salih Mohammed al-Iraqi, a Sadrist movement leader, had called on the party's supporters to target corrupt businesses of individuals.
"If the corrupt want to return, we are standing in the way and we will prevail over them," he said in a post on his Facebook page.
The political board of the Sadrist movement condemned "the use of armed force" for quelling "peaceful and civilized" protests.
"Firing on unarmed and peaceful protesters is a crime and an outright violation of the basic principles of human rights and the freedom of expressions, the laws and constitution," it added