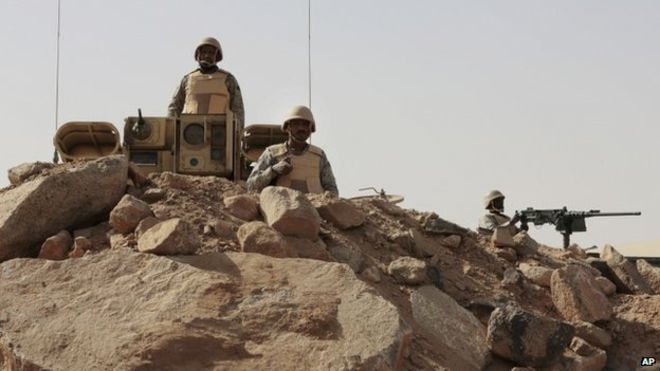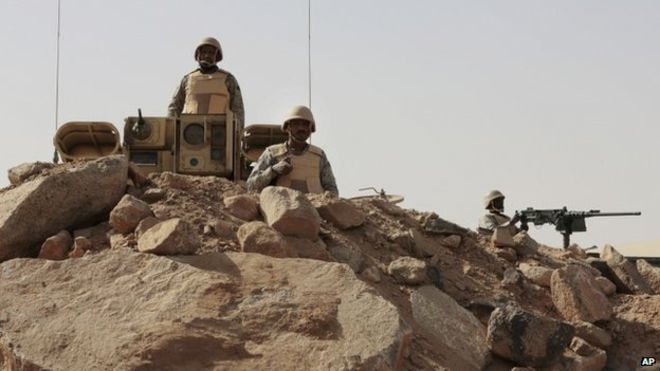 Four Saudi soldiers taking port in Yemen offensive have been killed on the border with the Arab impoverished country.
Riyaddh said on Tuesday said that three of its soldiers were killed by artillery fire from Yemen, and another died when his patrol vehicle crashed along the border.
A Saudi border post in the kingdom's southern region of Jazan came under shell and rocket fire from Yemeni territory on Monday.
After initially reporting that one soldier had been killed in the attack, an interior ministry spokesman said on Tuesday that two others had succumbed to their wounds.
Quoted by the official SPA news agency, the spokesman did not give a number of those thought to have been wounded in the attack.
The spokesman added that another soldier operating along the border with Yemen was killed in another incident, when his vehicle overturned.
Earlier on Sunday, Saudi Arabia said that rocket fire had killed a general, the highest-ranking officer to die in cross-border attacks since a Saudi-led coalition began the brutal offensive on Yemen.
Nearly 60 people, mainly military personnel, have been killed in Saudi Arabia's border region since the air campaign began.
Meanwhile, Yemeni army and Popular Committees shot down spy drone belonging to the United Arab Emirates (UAE) in the Mukayris region in southern Yemen, local media reported.
The Yemeni al-Masirah reported that the drone was shot down in Mukayris, which is situated between the Abyan and Bayda provinces, on Tuesday.
Yemen has been since March 26 under brutal aggression by Saudi-led coalition. Thousands have been martyred and injured in the attack, with the vast majority of them are civilians.
Riyadh launched the attack on Yemen in a bid to restore power to fugitive president Abd Rabbu Mansour Hadi who is a close ally to Saudi Arabia.
However, Yemeni army, backed by popular committees and tribal fighter has been responding to the aggression by targeting several Saudi border military posts and cleansing several areas across the country, especially the country's south, from Hadi and al-Qaeda-linked militias.