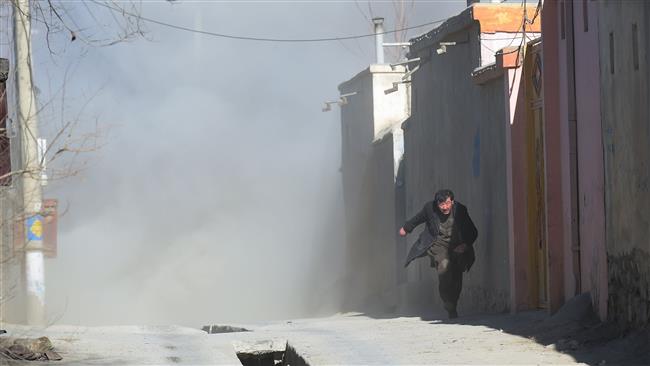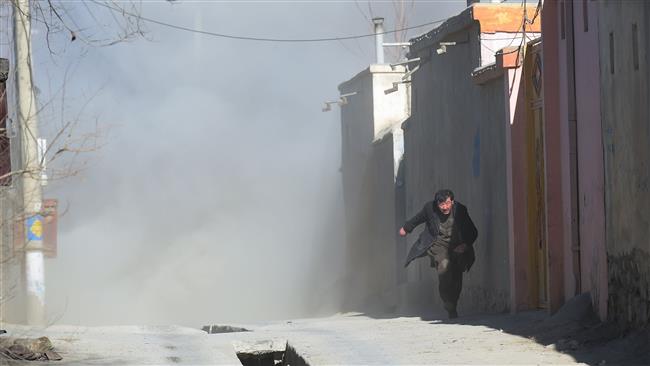 A bombing attack on a Shia cultural center and the nearby office of a media outlet in the Afghan capital of Kabul has left at least 40 people dead and more than two dozen others injured.
Afghan officials and witnesses said the deadly incident took place in the west of the capital early on Thursday, when a bomber detonated his explosives among social activists who had gathered at the Tabayan social and cultural center for a meeting.
"The target of the attack was the Tabayan cultural center. A ceremony was being held to mark the 38th anniversary of Soviet-invasion in Afghanistan when the explosion went off," Deputy Interior Ministry spokesman Nasrat Rahimi said. "We have 40 killed, 30 wounded, but this is not the final toll. It might go up."
Witnesses said many of those attending the ceremony were students.
The spokesman said the bombing attack was followed by two smaller bomb explosions at the site of the Afghan Voice news agency that caused severe damage but left no casualties.
Photos posted on the agency's Facebook page showed the inside of a compound in fire, smoke and debris.
Officials said there appeared to have been more than one attacker.
The Takfiri terrorist group of Daesh later claimed responsibility for the deadly attacks.
Iran strongly condemns Kabul attack, urges unity against terror plots 
Meanwhile, Iranian Foreign Ministry Spokesman Bahram Qassemi strongly condemned the attack.
He said that launching attacks on cultural centers showed the great extent of hatred by the masterminds and perpetrators of terrorist attacks towards freedom of expression and unity of the Afghan people.
"Following their heavy defeats, radical ill-wishers and hate-mongers now see their petty interests in [creating] regional chaos and unrest as well as the killing of innocent people," he said.
He said that the vigilance and unity of the Afghan nation and government together with cooperation among all regional countries were key to defeating terrorists.
Qassemi also expressed Iran's condolences to the Afghan government and nation, the bereaved families of the victims and the communities of reporters and intellectuals over the deadly attack.
The Thursday attack came days after a bomber claimed the lives of six civilians near an Afghan intelligence agency compound in Kabul. The assault was also claimed by Daesh, which has been seeking to expand its presence in Afghanistan after losing the territories under its control in Iraq and Syria.
Afghanistan is engulfed by violence, and many parts of the country remain plagued by militancy despite the presence of thousands of foreign troops.
The United States and its NATO allies invaded the country as part of Washington's so-called war on terror in 2001. The offensive removed a Taliban regime from power.