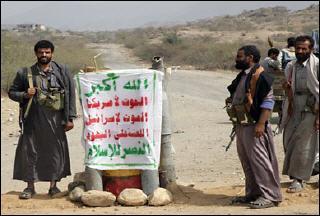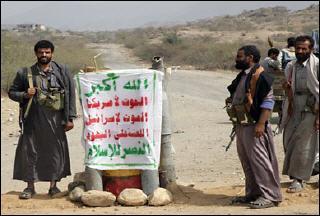 Fighting in mountainous north Yemen between Yemen Hezbollah Movement Houthi fighters and the army and tribes loyal to the government over the past four days has left at least 49 people dead.
The major confrontations were taking place in al-Amsheyah, in the northern Amran province, where the tribe of MP Sheikh Sagheer Aziz is allegedly besieged by the Houthi fighters.
"The confrontations between the Houthi and the supporters of the tribal chief Sheikh Sagheer Aziz have resulted in the death of 20 tribesmen and 10 Houthis," a tribal source told AFP.
But the Houthi spokesman, Mohammed Abdul Salam, told AFP that 20 fighters were killed in the confrontations, saying that the clashes were with the army and not with the tribe.
"We are confronting military positions. These are not tribal areas," he said by telephone.
Aziz is a member of the parliamentary bloc of the ruling General People's Congress party.
Six MPs have started a sit-in on Tuesday at the parliament in support of Aziz, demanding government action to end the alleged siege.
The Amran region and the neighboring Saada province have been the scene of sporadic clashes between the fighters and government-backed tribes.
The Houthi fighters and the government have repeatedly exchanged accusations of violating a February ceasefire which ended a six-month round of bloody conflict between the two sides.
The war was the latest round in the conflict which flared up in 2004. Thousands were killed and some 250,000 people were internally displaced.
In June, 2007, both sides signed a Qatari-brokered peace deal, which did not hold. Representatives of the government and the fighters met in Doha in February 2008 to try and revive the agreement.