Europe
'4th Quran Competition of Northern Europe'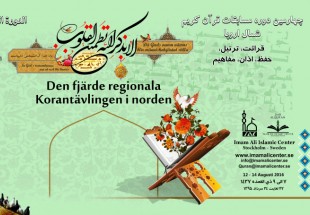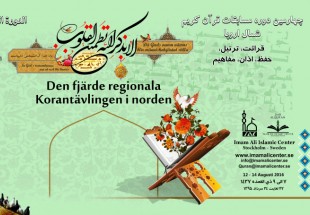 Hojat-ol-Islam Mohsen Hakim Elahi, director of Imam Ali (AS) Center in Stockholm, Sweden, which will host the contest, announced the names in an interview with IQNA stressing 5 Quran experts from Denmark, Germany, Iran, Sweden and the Netherlands would make up the panel.
Seyed Mohammad Javad Mousavi Dorchei from Iran, Seyed Yahya Hosseini from Denmark and Hassan Sadeqi Shouredeli from Germany have been selected as judges in the regional Quran contest, he said.
The other two members of the panel are Rahmatollah Bayat from Sweden and Ali Javad from the Netherlands, Hojat-ol-Islam Hakim Elahi added.
The 4th edition of the Quran Competition of Northern Europe will be held in Stockholm on August 12-14.
Quran recitation, Tarteel, memorization, Adhan (call to prayers) and concepts are the categories of the contest.
There will be two age groups competing at the event, adults (above 16) and children and teenagers (16 and below).
The deadline for registration is August 7, the organizers say.
It is aimed at promoting the Quranic culture and teachings, identifying Quranic talents, and enhancing unity among the Quranic community in Northern Europe.
The competition will also serve as a venue for Quran reciters and memorizers to exchange their Quranic experiences.
Winners of the regional competition will qualify for representing their country in next year's edition of the Islamic Republic of Iran's international Quran contest.
According to Imam Ali (AS) Center, during the competition period, the center will also offer Quranic workshops for the participants.