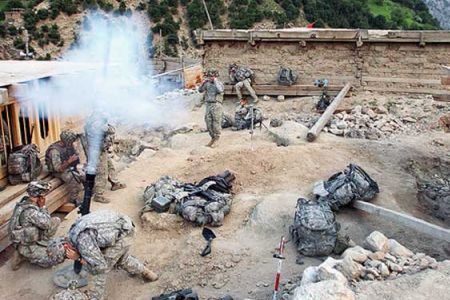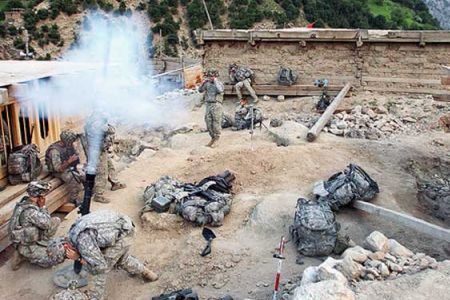 At least five American soldiers have been injured during a Taliban attack on a military base in Afghanistan's Paktika province, bordering Pakistan, NATO says.
According to a NATO statement, Taliban militants targeted the base in Bermal district of the eastern province early on Saturday by rocket-propelled grenades, gunfire and mortars, a Press TV correspondent reported.
The statement added that the US-led forces repelled the attack, killing more than 30 militants.
Taliban spokesman Zabihullah Mujahid also told Reuters by telephone that the militants had attacked the base, claiming that six police outposts had been ruined in the raid.
Taliban militants had caused "high casualties" on US-led and Afghan forces, he said without giving further details. He also confirmed the death of eight Taliban members.
Earlier, NATO's International Security Assistance Force said that another US-led soldier was killed in an attack in southern Afghanistan on Friday.
The latest death brings to 608 the number of NATO troops killed in the war-torn country so far this year compared to 521 for 2009, AFP reported.
The security situation remains fragile in Afghanistan despite the presence of 150,000 US-led foreign forces in the country.
As casualties have risen in Afghanistan over the past few months, the Western public is growing increasingly tired of the war and mounting casualties.