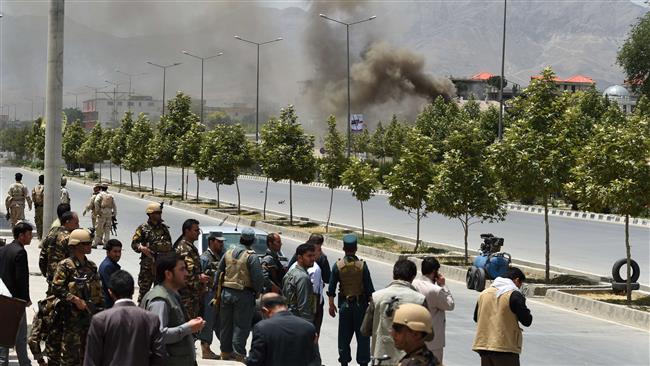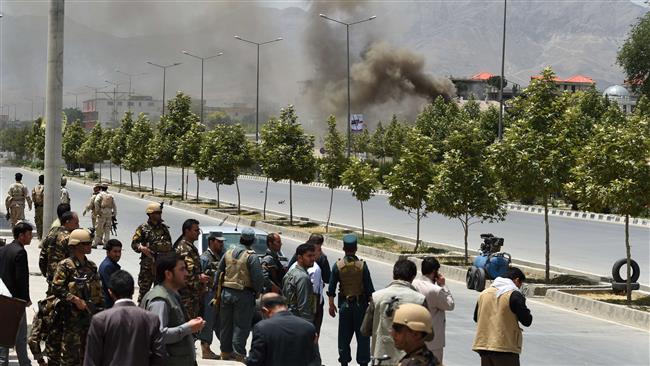 Major explosions followed by gunfire have rocked Afghanistan's parliament building in the capital, Kabul, resulting in the death of the seven assailants and at least two civilians.
Local press reports said on Monday that panic spread around the parliament building as lawmakers left a Monday morning session amid billowing smoke following the blasts.
Witnesses said that a group of bombers stormed the lower house of the parliament and detonated their explosives as the session was in progress.
A TV channel also showed Afghan legislators being evacuated from the building, located in the important Darul Aman neighborhood of Kabul.
There were also reports of gunfire outside the parliament as security forces have cordoned off the entire area, according to eyewitness accounts.
One local report cited the Kabul police chief as saying that the first blast at the parliament building was due to a car bomb, which was followed by several other explosions.
Taliban militants claimed responsibility for the attack.
Afghan security forces, however, managed to foil the attempt by the Taliban militants to lay siege to the parliament building. Officials said all seven assailants were killed in the counter-attack to secure the building.
"First a car bomb detonated on the main road near the parliament building, then a group of attackers entered a building in front of parliament," Kabul police spokesman Ebadullah Karimi said.
A woman and a child were killed in the assault, according to police and the United Nations.
The Afghan Health Ministry reported that 31 people, including five women and a child, were wounded.
Afghanistan has witnessed a surge in the number of terrorist attacks in recent weeks after the Taliban militant group vowed to target Afghan government and foreign troops as part of its so-called spring offensive, which usually begins in late April.
The militant group recently dismissed a proposal by senior clerics in the country's Ulema (Islamic clerics) Council to stop its attacks during the Muslim fasting month of Ramadan.
The war-torn country is still struggling with a lack of security more than 13 years after it was subjected to a massive military invasion by US-led forces in 2001 as part of Washington's so-called war on terror.
Although the occupation ousted the Taliban regime at the time, it failed to halt terror activities and the displacement of civilians across the Asian country.