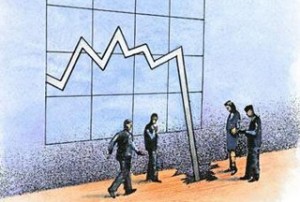 Seven more banks have been shut down in the United States, bringing the number of bank failures there to 37 so far this year amid unemployment and bad debts.
The closures took place in the states of Alabama, Georgia, Utah, Ohio, and Minnesota, The Federal Deposit Insurance Corp (FDIC) said Friday.
According to the FDIC, the Advanta Bank Corp of Draper, the Appalachian Community Bank of Ellijay, the Bank of Hiawassee, the First Lowndes Bank of Fort Deposit, the Century Security Bank of Duluth, the American National Bank of Parma and the State Bank of Aurora are amongst the latest victims of liquidation.
The failures are estimated to cost the government's deposit insurance fund more than one billion dollars.
US regulators have warned that the pace of bank seizures is likely to accelerate in the coming months.
In 2009, 140 American banks were forced to close down over the economic meltdown and mounting loan defaults, prompting more job losses and fueling the recession.
Reports indicate that the relative recovery from the latest financial crisis has only benefitted the largest US banks while smaller institutions are still struggling with large debts.