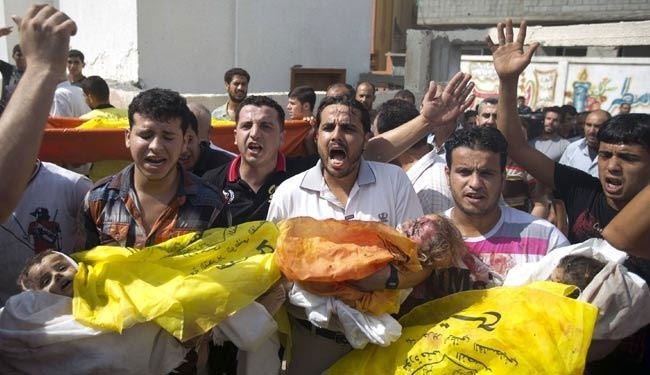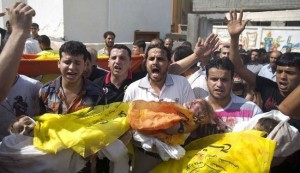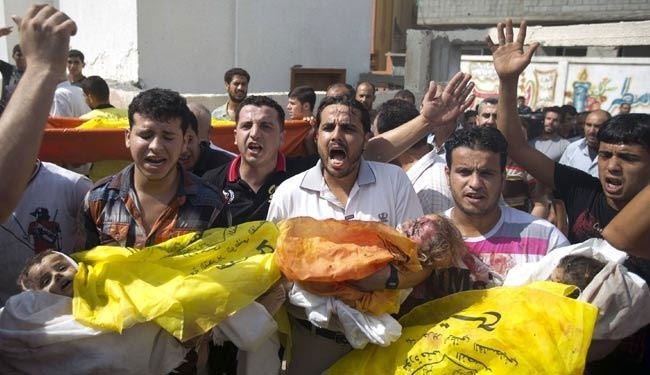 Health ministry spokesman Ashraf al-Qidra said the bodies of 70 Palestinians had been recovered from Rafah, while 55 other Palestinians were killed by the relentless Zionist aerial and artillery strikes across the Strip on Sunday. Palestinian health authorities have reported that over 70 more bodies were recovered in the southern Gaza city of Rafah, a day after it was targeted with heavy bombardment by Zionist forces, raising the total death toll of Israel's 27th day of military aggression on the besieged enclave to at least 120.
The continuing attacks brought the total Palestinian death toll during the Israeli onslaught on Gaza to 1,810 with nearly 10,000 injured, Ma'an News Agency reported Monday.
The Zionist forces began targeting Rafah with airstrikes and shelling on Friday, killing dozens in the city hours before a 72-hour ceasefire was to come into force. When the ceasefire collapsed, the Israeli regime continued its bombardment on Rafah throughout Friday and into Saturday, leading to massacre of over 100 Palestinians.
Meanwhile, Israeli shelling and airstrikes did not let up on Sunday even as Zionist ground forces withdrew from major cities in Gaza.
The attacks come after Israeli forces shelled a UNRWA school where thousands were taking refuge earlier in the day, killing at least 10 Palestinians. UN chief Ban Ki-Moon condemned the attack as "a moral outrage and a criminal attack."
Meanwhile, the Ministry of Prisoner's Affairs also stated on Sunday that the number of Palestinians held in Israeli jails had climbed dramatically throughout the regime's military assault on Gaza and the month leading up to it.
Abd al-Nasser Farwana, director of the ministry's statistics bureau, said in a statement that more than 1,500 Palestinians had been arrested by Zionist forces since June across the Palestinian territories.
Many more than 200 have been arrested in Gaza, although not all of them were still being held. Not all of the arrests have yet been accounted for, Farwana added.
The arrests bring the number of Palestinians in Israeli jails up to around 6,500, among whom are 250 children, 37 members of parliament, and 75 prisoners who were freed in the 2011 Shalit deal but rearrested, many of them in June.