Palestine
9 Injured during 3rd week of "Great March of Return"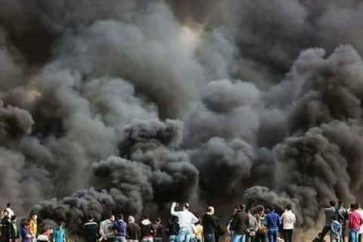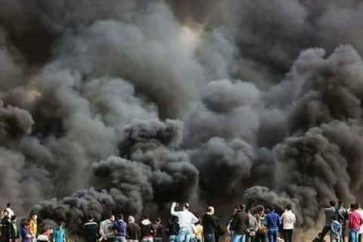 At least nine Palestinians have been injured with live fire by Israeli occupation forces along the borders of the Gaza Strip, on the third Friday of ongoing Return Protests in the Strip.
Thousands of Palestinians took to the borderlines in the eastern Gaza Strip, where they have been demonstrating for weeks in the "Great March of Return."
Two Palestinians were injured in the al-Zaytoun neighborhood east of Gaza City, and were transferred to the al-Shifa Hospital for treatment.
A third Palestinian was injured by Zionist live bullets in eastern Khan Younis in the southern Gaza Strip.
One protester was injured in the central Gaza Strip, while another was injured during protests east of Jabaliya in northern Gaza.
Thousands of Palestinians marched to the border waving Palestinian flags, while coffins carrying the Israeli flag were prepared to be burned during the day.
The six-week protest is set to end on May 15th, the 70th anniversary of the Palestinian Nakba, or "catastrophe," when the Zionist entity was established, leaving some 750,000 Palestinians and millions of their descendants as refugees.
At least 30 Palestinians, including one journalist and two minors, have been killed by Israeli occupation forces since the protests began on March 30.
Source: Ma'an News Agency