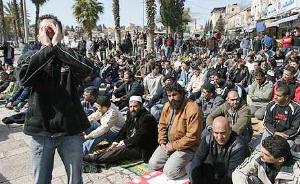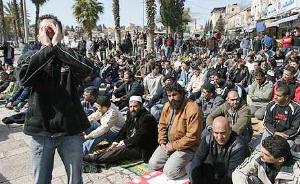 Some 90,000 Muslims worshipped at the Al Aqsa Mosque on Jerusalem's Temple Mount on Friday as part of a Ramadan celebration that has been marred by violence in previous years.
The prayers were held amid heavy security as thousands of Israeli occupation policemen were deployed in a bid to ward off the anti-Israel riots that developed in the past.
Five Arabs were arrested for "disturbances" ahead of the prayers, including a man from Issawiya for allegedly attacking an occupation police officer who tried to search him at the Lion's Gate.
The Israeli security establishment loosened restrictions governing who could enter occupied Jerusalem from the West Bank to allow Palestinian men over 50 and women over 45 to enter, as well as Palestinians with special permits. Under usual Israeli restrictions, only Palestinians with permits are allowed to enter occupied Jerusalem from the West Bank.
Occupied Jerusalem-based Sheikh Mohammed Hussein said that the age restrictions placed on worshippers is one of many of Israel's attempts to Judaize the city, and "to limit the Islamic presence in Jerusalem."
At the Qanladiya checkpoint into occupied Jerusalem, long lines of people could be seen streaming into the city from early morning onwards.
The compound is known as Al-Haram Al-Sharif to Muslims and is Islam's third holiest site after Mecca and Medina. Jews refer to the same area as the Temple Mount, the location of the Second Jewish Temple razed by the Romans in 70 AD and Judaism's holiest site.