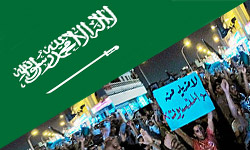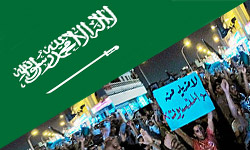 A large crowd of people in the city of Buraidah, at the heart of the Arabian Peninsula, staged a rally to protest at the abduction of two young university students by the Saudi security forces.
During the protest, the residents of Buraidah, the capital city of Al-Qassim province, chanted slogans against the abduction of the two female students.
Shima and Asma were abducted by the Saudi interior ministry forces in front of Abha University.
"Our women are our red line and we will not neglect them," protesters chanted.
They also called for the release of all political inmates in Saudi Arabia, including Zakaria al-Zal'an, the young Saudi boy who was arrested in a rally in Buraidah a while ago.
Saudi Arabia is witnessing daily popular protests to mark the deaths of at least 15 people in connection with protests in the country since last year.
Reports vary as to how those killed in connection with the protests lost their lives. Eyewitnesses have said that some of those who died were either not taking part in demonstrations or, if they were, posed little or no risk to the security forces.
All demonstrations are banned in Saudi Arabia, but they have been taking place in Saudi Arabia's predominantly Shiite Muslim Eastern Province since February 2011 to protest the arrest, imprisonment and harassment of members of the Shiite community for holding collective prayer meetings, celebrating Shiite religious festivals and for breaching restrictions on building Shiite mosques and religious schools.