Iran
Aboutorabifard underlines ineffectiveness of western sanctions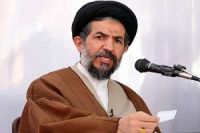 Iranian Majlis Vice-Speaker Mohammad Hassan Aboutorabifard played down the effectiveness of Westˈs sanctions against Iran, and said Iranians are resolved to continue the path of all-out progress.
According to IRNA, Aboutorabifard said, addressing a group of government directors in the city of Rafsanjan on Thursday,ˈThe westerners have claimed that the sanctions, pressures and threats against Iran have pursued a halt in Iranˈs nuclear activities, but we seek now that there are more than 19,000 active centrifuges in the country and Arak heavy water reactor has also been finalized and its reactor is active.ˈ
He reiterated that the westerners have reached the conclusion that they should take part in respectful negotiations with Iran, and said, ˈThey are now arranging their future moves by keeping in mind that the Islamic Republic of Iran as an effective and power political player.ˈ
Earlier this year, Supreme Leader of the Islamic Revolution Ayatollah Seyyed Ali Khamenei outlined the general policies of the program to promote the "economy of resistance", which can lead the Iranian nation to victory in "the imposed economic war" with the West.
The Leader called the western sanctions against Iran "a full-fledged economic war" and said that the Islamic Republic is determined to force the West to retreat.
Under the program, the government must take action to expand the production and exportation of knowledge-based products, increase domestic production of strategic goods, and develop markets in neighboring countries.
It also encourages greater privatization and increased exports of electricity, gas, petrochemicals, and oil byproducts instead of crude oil and other raw materials.