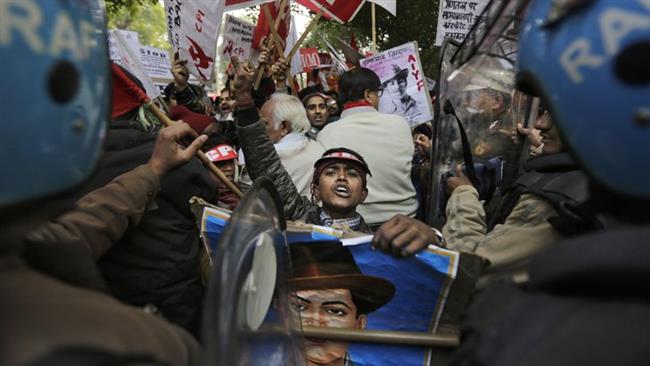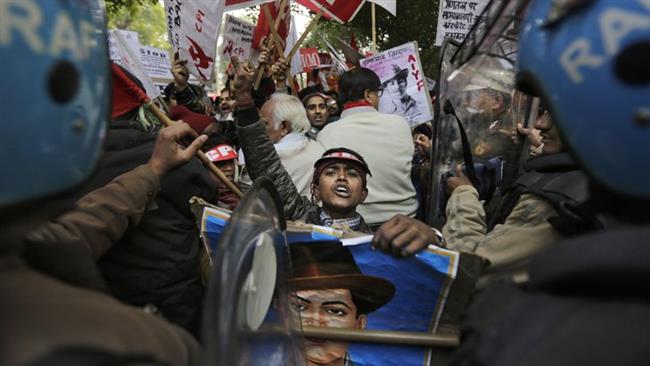 Scuffles have broken out between security forces and Indian protesters on the eve of a visit by US President Barack Obama to the South Asian country.
On Saturday, Indian protesters took to the street in the capital, New Delhi, to express their outrage at Obama's three-day visit to India to hold talks with Prime Minister Narendra Modi.
The demonstrators chanted anti-US slogans, and burned the effigy of the most high-ranking US official, while shouting, "Barack Obama, Hands off India."
They argued that Obama's trip seeks Washington's domination in economic, nuclear and defense ties with New Delhi.
S. Raghavan, a protester, said Obama's visit is aimed at forging an Indo-US military alliance rather than upgrading political and economic relations between the two countries.
The protesters are also strongly opposed to a 2008 civil nuclear agreement between Washington and New Delhi.
The Indian demonstrators marched in the cities of Chennai and Sivagangai to protest Obama's visit to the country.
A. Soundararajan, an Indian politician, said Obama's trip is only aimed at getting favors for the American companies at the cost of "compromising" the interests of the Indian public sector.
Obama departed Washington early Saturday morning for his three-day trip to India, with a short stopover in Germany.