Iran
AEOI Chief: Enemy Using Every Means to Sabotage Iran's Nuclear Program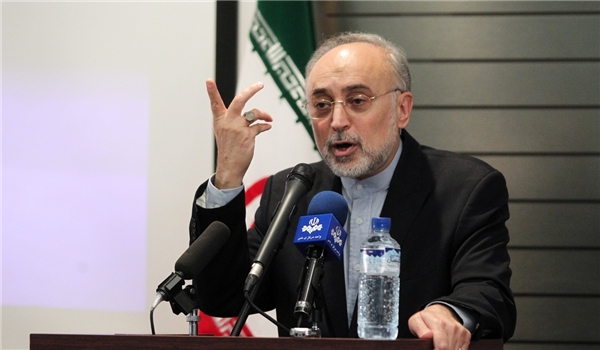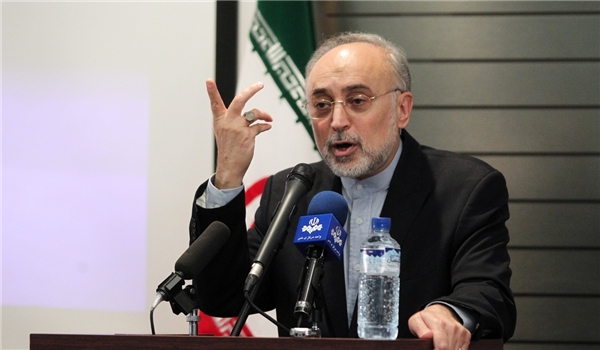 Head of the Atomic Energy Organization of Iran Ali Akbar Salehi said Iran's foes have left no stone unturned in their efforts to stop or sabotage the country's nuclear progress, adding that such moves have helped Tehran develop a powerful civil defense structure in its nuclear industries.
"By the grace of God, Iran's nuclear industry has progressed a lot by relying on local forces," Salehi said, addressing a civil defense conference in Tehran on Wednesday.
He pointed to the western sabotage attempts against Iran's nuclear industry, including the Stuxnet virus attack on Natanz uranium enrichment facility several years ago, and said, "The Stuxnet virus made us sensitive about this issue and we have displayed in an exhibition on industrial sabotage how officials and sons of this country confronted this heinous phenomenon so powerfully."
He reiterated that the enemies have used all means to weaken Iran's nuclear industry, but Iran has foiled their attempts, "and this has paved the way for our progress and also the strengthening of the country's civil defense programs".
Salehi said that the issue of civil defense is of paramount importance and all officials have paid due attention to it.
Iran's uranium enrichment facility at Natanz was the first publicly known target of a computer virus used to attack industrial machinery.
The Stuxnet virus, widely believed to have been developed by the United States and Israel, was discovered in 2010, although researchers at Symantec Corp have uncovered a version deployed two years earlier.
A senior US Air Force official told reporters in January that Iran responded to the 2010 Stuxnet attack by beefing up its own cyber capabilities, and would be a "force to be reckoned with" in the future.
Last month, Salehi said not only the western, but also some developing states have been trying to sabotage Iran's nuclear installations through selling malfunctioning parts to the country.
"Unfortunately, different European and western countries and famous world industries with special positions (in this industry) have collaborated with the Zionist regime and the US efforts to sabotage Iran's nuclear industry, and if one day we reveal the names of these industries and companies to the world, all people will understand the importance of this issue," Salehi told reporters at the time.
Also in September, Deputy Head of the AEOI Asqar Zarean said that Iran has disrupted plots by foreign spies to recruit its nuclear experts and stopped sabotage attempts through faulty foreign equipment supplied for its facilities.
"We aim to raise awareness about the enemy, who is more hostile to us every day," Zarean, who is also in charge of security for Iran's nuclear program, said in an interview with AP in Tehran.
He did not name countries that authorities believe are behind the sabotage and the recruitment efforts.
Zarean said foreign intelligence agencies targeted the experts when they traveled abroad and that the experts informed their superiors about the contact when they returned home. He did not elaborate on number of the attempts and destinations where the contacts occurred.
Zarean also showed AP journalists parts and equipment, including modems and pumps, which he said had been deliberately tampered with to sabotage Iran's nuclear program. He described the items on display, which he said had been manufactured in western and Asian countries, as only a small sample of western sabotage.
Despite the (nuclear) negotiations (between Tehran and the six major world powers), Zarean said Iran's (civilian nuclear) program remains a target for foreign spies, pointing at Iran's Islamic Revolution Guard Corps (IRGC) shooting down a Israeli spy drone last month near the uranium enrichment facility in Natanz, some 240 kilometers (150 miles) South of the capital, Tehran.
"With the dominance, resistance and vigilance that our defense system has shown, any flying object aiming to approach our nuclear sites will be targeted," Zarean said. "We are not joking with anyone. From now on they will see that (our response) to such jokes will be serious."
Addressing an annual seminar on civil defense, he said in fact the enemies' wrong approach prompted the country to attain outstanding development in the nuclear field.
The enemy spares no effort to create obstacles on the way of Iran's march towards development, he underlined.
Late in August, the IRGC announced in a statement that it had shot down an Israeli drone near the highly sensitive nuclear enrichment facility in Natanz in Central Iran.
The IRGC Public Relations Department said in the statement that the Israeli pilotless aircraft was a radar-evading, stealth drone with the mission to spy on Iran's Natanz nuclear enrichment plant.
The IRGC also pointed out in its statement that the Israeli hostile aircraft had been targeted by a surface-to-air missile.
The IRGC then warned that it "reserves the right of response and retaliation for itself".