Iran
AEOI Chief: Iran Able to Resume Production of 20% Enriched Uranium in 4 Days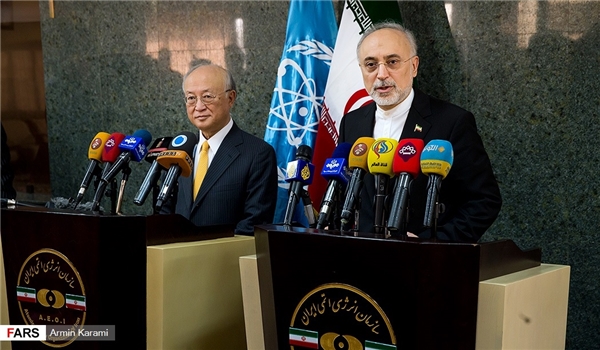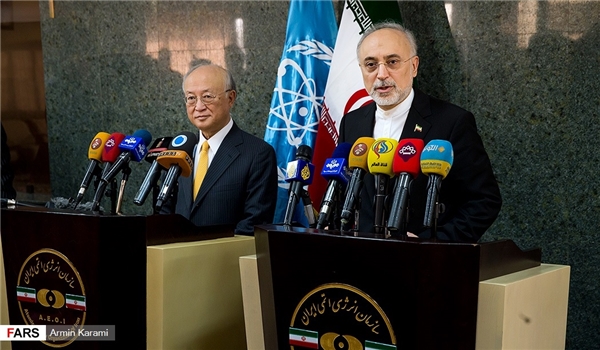 Head of the Atomic Energy Organization of Iran (AEOI) Ali Akbar Salehi underlined that if the 2015 nuclear deal between Tehran and the world powers is annulled, his country will be able to resume production of uranium enriched to the 20% level within only 4 days.
"We can produce 20% (enriched uranium) in 4 days but we don't want the nuclear deal to collapse," Salehi told reporters after a joint press conference with Director-General of the International Atomic Energy Agency (IAEA) Yukiya Amano in Tehran on Sunday.
He also referred to the section T of the 2015 nuclear deal which is related to the inspection system, and said, "We have spoken about the section T and our positions have been clearly declared. The section T does not include any peculiar inspections. When the section T was being compiled, these (Iran's) considerations were taken into account but unfortunately, the other side is after its own interpretations."
In relevant remarks on Saturday, AEOI Spokesman Behrouz Kamalvandi underlined that the issue with the inspection of his country's military sites ended forever after Tehran permitted the International Atomic Energy Agency (IAEA) to inspect Parchin in 2015.
"When there is no nuclear activity in a place, there is no reason to go there. They (the westerners) launched baseless propaganda in the international media in the past few years that certain activities were being carried out in Parchin site and finally, we were forced to end this issue once and forever and it happened and the case was closed and the IAEA's Board of Governors also confirmed it," Kamalvandi said.
Noting that inspection of military sites has been stated neither in the 2015 nuclear deal nor the Additional Protocol to the NPT and the IAEA safeguards agreement, he said that the UN nuclear watchdog can merely demand for access to the centers in which nuclear activities are being conducted.