Iran
Middle East
Aerospace Commander: IRGC, Defense Ministry to Collaborate to Enhance Iran's Missile Power
Commander of the Islamic Revolution Guards Corps (IRGC) Aerospace Force Brigadier General Amir Ali Hajizadeh announced plans to broaden cooperation with the Defense Ministry to enhance Iran's missile power.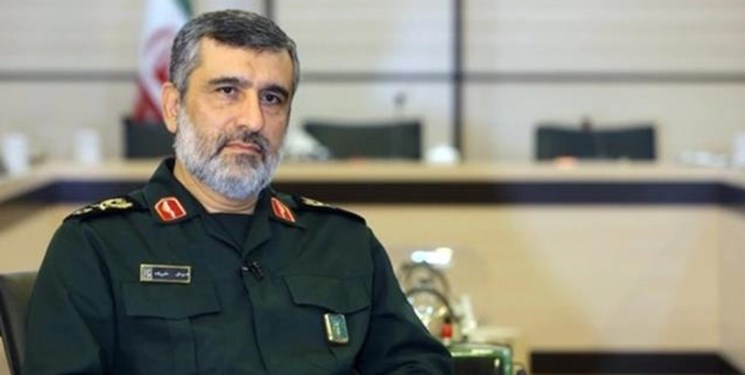 General Hajizadeh made the remarks in a meeting with newly-appointed Iranian Defense Minister Brigadier General Mohammad Reza Ashtiani on Saturday.
Hajizadeh stressed the need for further cooperation, and said, "The Defense Ministry can play an effective and decisive role in enhancing the defense power of the IRGC's aerospace force."
"God willing, cooperation in the field of upgrading the IRGC missile power will be expanded during the new term of the Defense Ministry," he added
General Ashtiani, for his part, voiced his ministry's readiness to interact and cooperate closely with the IRGC's Aerospace Force.
"With the extensive industrial and production capacities and platforms in the Ministry, we will be able to take big steps toward providing and meeting the defense and military needs of the Armed Forces, especially the IRGC's Aerospace Force," he said.
Last week, Iran's Air Defense Force successfully tested a new generation of the domestically-manufactured Mersad-16 missile system in the country's central desert.
Iranian military experts and technicians have in recent years made great progress in indigenously developing a broad range of equipment, making the Armed Forces self-sufficient in this regard.
Officials have repeatedly stressed that the Islamic Republic will not hesitate to build up its defense capabilities, emphasizing that such abilities are entirely meant for the purpose of defense and will never be subject to negotiations.
In a relevant development on Friday, IRGC Commander Major General Hossein Salami also met the Iranian Defense Minister and discussed regional issues with him.
Salami pointed to the enemies' attempts to exert pressure on the Iranian nation through persistence on their enmity, and reiterated that the effort should be dealt prudently.
"The enemies of the Islamic Revolution and the Iranian nation have not spared any threat and machination to pressure the Islamic establishment and the Iranian nation, and despite their failures over the past four decades, they insist on continuing their enmity and malice," General Salami said.
"Each day, they unveil their deep animosity with special complexities and intricacies that need to be dealt with with maximum wisdom and insight," he added.
General Salami also underlined the need for using modern and strategic systems and equipment to deepen and develop Iran's defense capabilities and meet the needs of the Armed Forces, especially those of the IRGC.