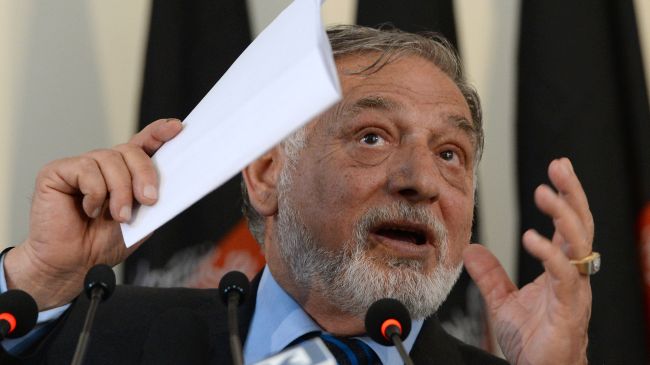 Afghanistan politicians Abdullah Abdullah and Ashraf Ghani will face off in their country's second round of presidential election after both garnered the most votes in the first round.
Foreign Minister Abdullah Abdullah and ex-finance minister Ashraf Ghani finished with the most votes in the first round of the election held on April 5, Independent Election Commission chairman Ahmad Yousuf Nouristan told a news conference in Kabul on Thursday.
Neither of them, however, secured the 50 percent of the votes needed to win the election outright.
Abdullah Abdullah won 45 percent of the ballots and his main opponent Ashraf Ghani received 31.6 percent, Nouristan said.
Six other candidates were eliminated from the race.
The results were initially planned to be announced on Wednesday. The delay caused dissatisfaction over the performance of the electoral commission.
Full results from the April 5 polls were released late last month.
Earlier results showed none of the eight candidates have gained more than 50 percent of the ballots.
This has brought the election to a planned run-off on June 14 between the two leading candidates, Abdullah and Ashraf Ghani.
More than 6.8 million Afghans braved Taliban threats and took part in the first round of the vote early last month to choose a successor to two-time President Hamid Karzai.
Taliban militants had pledged to disrupt the balloting, warning the people against voting.