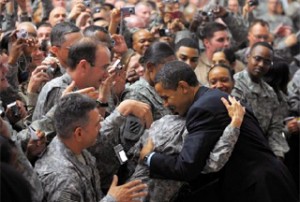 US President Barack Obama says his new Afghan strategy was the most difficult decision of his presidency so far.
As the commander in chief, it was his "solemn obligation" to get those decisions right, especially to dispatch the 30,000 additional US troops to the war in Afghanistan, he told the CBS program "60 Minutes" in an interview taped for broadcast Sunday.
In his first interview since announcing the new Afghan strategy, he said he is deeply moved when he attends ceremonies for fallen soldiers returning home in coffins or visiting scarred veterans of the wars in Iraq and Afghanistan.
Obama said his speech to a group of cadets at the West Point academy on December 1 was probably the most emotional speech he has ever made, in terms of how he felt about it.
"Because I was looking out over a group of cadets, some of whom were going to be deployed in Afghanistan. And potentially some might not come back," Obama said, adding, "There is not a speech that I've made that hit me in the gut as much as that speech."
Obama also defended himself against criticism that the decision to set a July 2011 date for the start of a US withdrawal was emboldening al-Qaeda and Taliban militants.
He said he will change direction on Afghanistan if the US military has not secured Afghan cities and towns from Taliban militants by the end of 2010.
The US president also reminded Pakistan that it was going to have to do more against its own pro-Taliban militants and al-Qaeda.