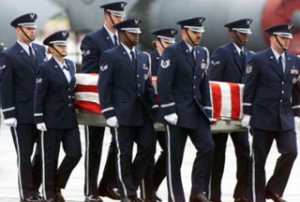 Following the bloodiest month for foreign troops stationed in Afghanistan, foreign officials announce the death of four more US-led soldiers in the war-ravaged country.
Senior US military officials in Kabul confirmed that three American troops were killed on Saturday when a roadside explosion ripped through an army convoy in the troubled southern Kandahar Province.
More than two hundred foreign soldiers have been killed in Afghanistan this year.
A Saturday statement by the French military confirms that a French soldier was also killed in deadly clashes with Taliban militants north of Kabul. Two other soldiers were wounded in the clashes.
Deaths among US-led NATO troops have also soared this year, particularly in the insurgency-hit southern and eastern provinces where deadly fighting is ongoing.
Seventy-four foreign troops — including 43 Americans — have so far been killed in militant attacks across Afghanistan during the five past weeks.
July was the deadliest month for international forces since the invasion of Afghanistan in 2001.