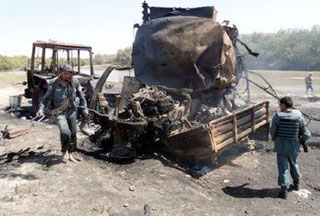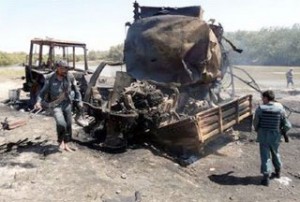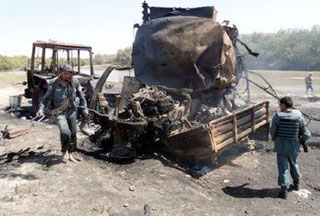 Afghanistan is mourning the death of at least ninety people, mostly civilians, who lost their lives in the recent NATO bombing in the north of the country.
Memorial ceremonies are being held in nearly a dozen Afghan villages for the Kunduz province victims who were killed after NATO troops targeted two fuel tankers in the region.
The raids have been condemned by the Afghan government which has long been demanding an end to numerous deadly foreign attacks on civilians.
This time, however, the raid could, according to European governments, undermine the NATO mission in Afghanistan.
At least ninety people were killed and scores others injured after US-led warplanes targeted fuel tankers allegedly hijacked by the Taliban linked militants in the Kunduz province.
Afghan civilians have been the main victims of violence in the country, particularly in the troubled southern and eastern provinces.
In early May, more than 140 Afghan civilians were also killed in a series of US airstrikes in the western Farah province.
According to a UN report, more than 1,000 Afghan civilians have been killed either in US-led air strikes or in the Taliban-led insurgency across the violence-wracked country in the first half of the current year.