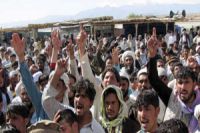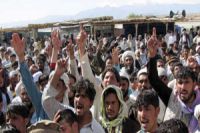 People have taken to the streets in eastern Afghanistan to condemn three US-led raids that killed at least four civilians in the war-torn country.
According to Press TV, the demonstration took place on Tuesday in the country's eastern province of Ghazni where protesters shouted slogans against the foreign forces.
This comes after at least two civilians were killed in a raid carried out by the US-led foreign troops in the same province. According to locals, two other people were also arrested in the Monday night attack.
Protesters have pledged to continue their demonstrations until detainees are freed.
Reports say angry demonstrators have closed the main highway in the province which connects Kandahar to the capital, Kabul.
In another incident, US-led forces killed one civilian and injured three others at a checkpoint in the southern province of Kandahar.
An Afghan medical student was also killed in an attack on his house on Monday night in the country's eastern Khost Province.
Civilian casualties have long been a source of friction between the Afghan government and US-led foreign forces and have dramatically increased anti-US sentiments in Afghanistan.