Africa
World News
After 2,000 Dead in 5 Days, Nigeria Appeals for Help against zionist puppet Boko Haram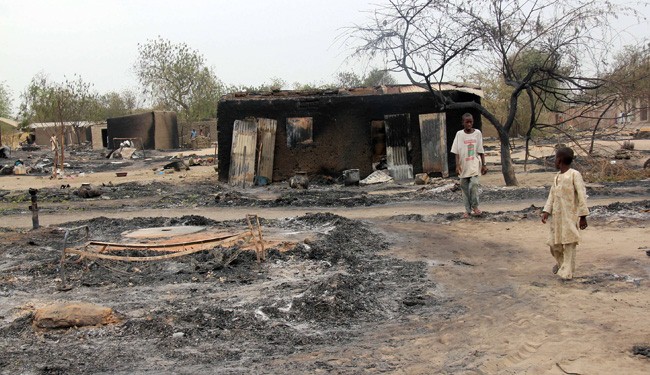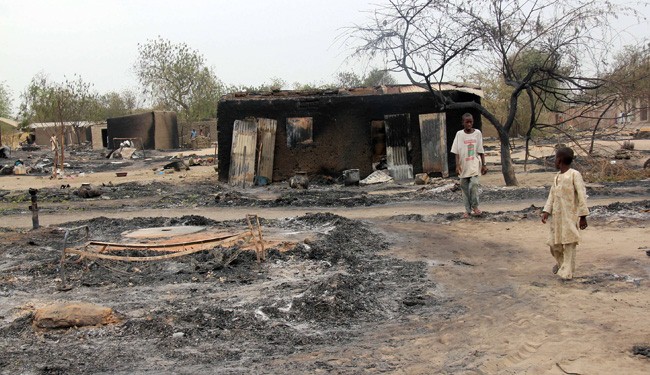 Nigeria's military has called for support in tackling Boko Haram after a major attack on a key northeast town that Amnesty International described as the "deadliest massacre" in the history of Boko Haram.
Fighting continued around Baga, a town on the border with Chad where insurgents seized a key military base on 3 January and attacked again on Wednesday.
District head Baba Abba Hassan said most victims are children, women and elderly people who could not run fast enough when insurgents drove into Baga, firing rocket-propelled grenades and assault rifles on town residents.
"The human carnage perpetrated by Boko Haram terrorists in Baga was enormous," Muhammad Abba Gava, a spokesman for poorly armed civilians in a defence group that fights Boko Haram, told the Associated Press.
An Amnesty International statement said there are reports the town was razed and as many as 2,000 people killed.If true, "this marks a disturbing and bloody escalation of Boko Haram's ongoing onslaught," said Daniel Eyre, Nigeria researcher for Amnesty International.
The previous bloodiest day in the uprising involved soldiers gunning down unarmed detainees freed in a 14 March 2014 attack on Giwa military barracks in Maiduguri city. Amnesty said then that satellite imagery indicated more than 600 people were killed that day.
Boko Haram launched attacks around a captured town in restive northeast Nigeria this week, razing at least 16 towns and villages, a local government and a union official told AFP on January 8, 2015. "They burnt to the ground all the 16 towns and villages including Baga, Dorn-Baga, Mile 4, Mile 3, Kauyen Kuros and Bunduram," said Musa Bukar, head of the Kukawa local government in Borno state.
The bloodshed in Baga likely marked the deadliest-ever episode in the insurgency of Boko Haram, a radical group which has said it wants to create an Islamic state in northern Nigeria. AFP
Around 1.5 million people have been displaced by the violence, many of whom will not be able to vote in the polls under Nigeria's current electoral laws which comes five weeks away.
Boko Haram also appears to be regionalizing the conflict, after threatening neighboring Cameroon in a video earlier this week.
The five-year insurgency killed more than 10,000 people last year alone, according to the Washington-based Council on Foreign Relations. More than a million people are displaced inside Nigeria and hundreds of thousands have fled across its borders into Chad and Cameroon.
Nigeria's military has called for support in tackling Boko Haram after a major attack on a key northeast town that is feared could be the worst in the bloody six-year insurgency.
Defense spokesman Chris Olukolade said in a statement issued late Saturday that the description of the assault as "the deadliest" in a conflict that has claimed more than 13,000 lives since 2009 was "quite valid", AFP reports.
Nigeria's military – west Africa's largest – has faced repeated criticism for failing to end the six-year Islamist insurgency, as well as allegations of human rights abuses.
On Saturday, two explosions rocked northeast Nigeria, including one at a crowded market in the Borno State capital, Maiduguri, by a girl suicide bomber thought to be just 10. Nineteen people were killed.
The Baga attack, which local officials said forced at least 20,000 people to flee, also overran the headquarters of the Multinational Joint Task Force made up of troops from Nigeria, Niger and Chad.
Nigerien and Chadian soldiers were not at the base at the time. Olukolade said 14 soldiers were killed and more than 30 injured as well as "several" insurgents.
Boko Haram has seized dozens of towns and villages in northeast Nigeria in the last six months and now reportedly controls the border areas of Borno state with Niger, Chad and Cameroon.
The territorial gains have led to fears of a total loss of government control in the remote region — and a claim last year by a senior US diplomat that the military was in denial about the situation.