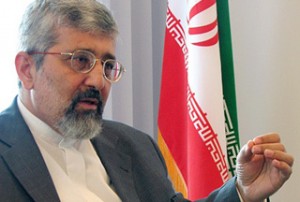 While the United States says it will respond if Iran does not accept a deal to buy nuclear fuel supply, Russia says sanctions against Tehran are highly unlikely in the near future.
"Sanctions in relation to Iran are hardly possible in the near future," Kremlin foreign policy aide Sergei Prikhodko was quoted by Interfax news agency as saying.
The remarks come as the US has suggested that further sanctions would await Iran over its nuclear activities, should it refuse the deal.
"Nothing is off the table," General James Jones, President Barack Obama's national security adviser, said Tuesday.
"Iran now needs to follow through on its commitments," Jones said in a speech in Washington to J Street, a liberal pro-Israel lobbying group, Reuters reported.
On Wednesday, a report by Iran's Mehr news agency claimed that the country will respond to the deal that was drafted by the UN nuclear watchdog.
The report, quoting an informed source, said Iran's envoy to the International Atomic Energy Agency (IAEA), Ali Asghar Soltaniyeh, will give Iran's response to the Vienna talks on Thursday.
Under the deal, brokered by the IAEA, Iran will ship out 80 percent of its low-enriched uranium (LEU) in exchange for highly-enriched uranium converted into metal fuel rods for a Tehran research reactor that produces isotopes for cancer care.
On Tuesday, a diplomat familiar with the issue told Press TV that Iran was against sending out all the material in one go.
"Iran, as a uranium buyer, knows best how much uranium, enriched to a level of 19.75 percent, it needs; based on this argument, it will raise certain issues with this proposal," the diplomat said.
According to the diplomat, sending the entire enriched uranium stockpile abroad altogether is against Iran's national interests.