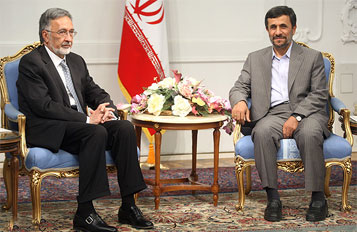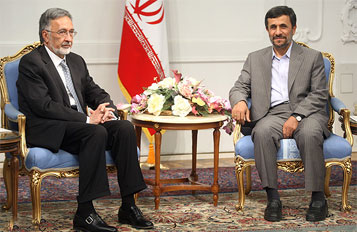 President Mahmoud Ahmadinejad said on Thursday that development and progress of Afghanistan prepares grounds for restoration of security and stability to the region and the entire world.
President Ahmadinejad made the remarks in a meeting with visiting Afghan Foreign Minister Zalmai Rassoul in Tehran on Thursday.
To attain the goal, all should cooperate to bring about development and progress in the war-torn country, he said.
People in Iran and Afghanistan have deep rooted cultural commonalities which should be used for expansion of constructive cooperation between the two countries, he pointed out.
The Islamic Republic of Iran spares no efforts to help the country successfully conquer peaks of development, underlined President Ahmadinejad.
Infrastructural projects in the fields of roads, railroad, water and electricity should be accomplished in due course to expedite the country's development and Iran will render invaluable assistance and services to the Afghan nation, he said.
The Afghan people are able to administer their own affairs without interference of other countries through promotion of unity and solidarity among all tribes and groups, he said.
The Afghan foreign minister, for his part, called for expansion of mutual cooperation in various fields.
The Islamic Republic of Iran has backed the Afghan people to restore security and stability to their country, something that would benefit both nations as well as the entire region, he said.
The Afghan government is trying to maintain security through bolstering national unity in the country, he said.