Afghanistan
Ahmadinejad Asks Afghan, Pakistani Nations to Fire Occupiers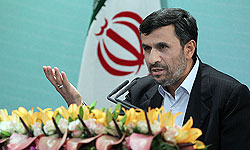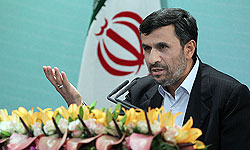 Iran's President Mahmoud Ahmadinejad on Thursday asked the Afghan and Pakistani people to fire occupying troops from their countries.
Addressing a congregation of local residents in Iran's Northeastern border city of Darmiyan today, the Iranian president reminded the US invasion of Afghanistan in 2001 followed by over 10 years of occupation under the pretext of saving people and fighting terrorists, and said they didn't eradicate terrorism, but looted Afghanistan.
"Today enemy is seeking to divide people through smear campaigning because if they don't divide (people), they wouldn't be able to rule," he stressed.
"If the Afghan and Pakistani nations become united, they will be able to kick occupiers out of their countries," he added.
In relevant remarks earlier this month, the Iranian president reminded that the US administration took advantage of the suspicious September 11 attacks to justify its occupation of Afghanistan and Iraq.
"It was said that some three thousand people were killed on September 11 for which we are all very saddened. Yet, up until now, in Afghanistan and Iraq hundreds of thousands of people have been killed, millions wounded and displaced and the conflict is still going on and expanding," the Iranian president said earlier in October.
Iran has always called the western powers' military buildup in the regional countries as the root cause of the current security crisis in the region, and asked the regional states not to pay the costs of the world powers' economic meltdown by purchasing their arms and military equipment.
Iran has also urged for a regional approach towards the settlement of problems in the region, and called for the withdrawal of the alien forces from the regional states.
Late in May, UN Secretary General's Special Envoy to Afghanistan Staffan de Mistura acknowledged increased drug production in Afghanistan, and praised Iran's activities and efforts in fighting drug plantation, production and trafficking.
While Afghanistan produced only 185 tons of opium per year under the Taliban, according to the UN statistics, since the US-led invasion, drug production has surged to 3,400 tons annually. In 2007, the opium trade reached an estimated all-time production high of 8,200 tons.
Afghan and Western officials blame Washington and NATO for the change, saying that allies have "overlooked" the drug problem since invading the country 10 years ago.