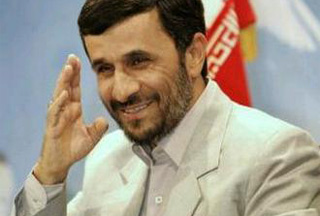 Iran's President has repeated calls for global nuclear disarmament, saying the existence of atomic weapons has not solved any of the outstanding problems facing mankind.
"There is no need for a nuclear bomb for that matter," said President Mahmoud Ahmadinejad on Friday. "Their [the nuclear bombs] existence today has not helped the world in the least."
"What the world needs today is international institutions that would promote human culture and individual rationality, as opposed to weapons factories," he was quoted by IRNA as saying.
President Ahmadinejad, in recent years, has vocally advocated a global commitment to rid the world of Weapons of Mass Destruction (WMD).
In a recent interview with US network NBC, Ahmadinejad warned that the policies of 'a handful of countries', including Britain and the US are threatening the Middle East with an arms race.
"First the nuclear arsenals in the US and Britain need to be destroyed, dismantled. And then no one would doubt the good will of the US around the world," he said.