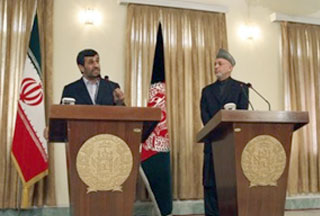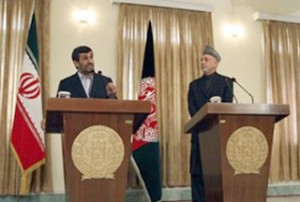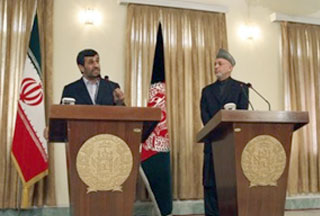 Iran's president says the US must explain what its troops are doing in Afghanistan, as catching terrorists only requires intelligence work not military deployments.
Mahmoud Ahmadinejad made the comment in a joint press conference with his Afghan counterpart Hamid Karzai in Kabul on Wednesday morning.
The Iranian president was responding to a question about the recent arrest of Jundallah leader Abdolmalek Rigi.
"Rigi is supported by the same people [and] governments, who have ill intentions for the government of Afghanistan and the Iranian nation. Rigi was a terrorist, who along with his associates killed more than 140 people," said Ahmadinejad.
"Was Iran able to stop him? Yes, we arrested Rigi. Of course that was achieved with the cooperation of the Afghan and Pakistani intelligence services… but [in that process] Iran killed no innocent people," he added.
"Is this not an example of the right way to fight terrorism? Why those who claim to be eager to fight terrorism are unsuccessful? Well the answer is that they themselves started terrorism and they want to fight it now. But they can't."
Ahmadinejad said that fighting terrorism is not possible with military surge, adding that terrorism can only be fought with intelligence cooperation.
Ahmadinejad was also asked about the significance of the simultaneous visit of US Defense Secretary Robert Gates to Afghanistan, to which he responded by asking the American official about the objectives of his trip.
"My question to Mr. Gates is what is he doing here? Your country is 12,000 kilometers (7,500 miles) away from the Middle East…Are you here to capture terrorists? Well if so it is clear what you must do, but if you are here to do something else, admit to it."