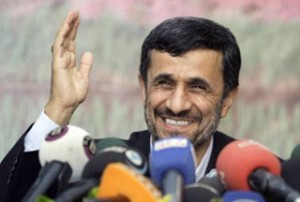 President Mahmoud Ahmadinejad arrived in Hamedan Friday morning to attend the International Festival on Avicenna Theosophia being held in this western province.
He is scheduled to attend a special ceremony of the festival envisaged to honor the great Iranian scientist and philosopher, including a ceremony to unveil a special stamp designed for the occasion.
President Ahmadinejad will also award the best works and articles on the philosophy and medical achievements of Avicenna known as Ibn Sina in Iran.
The three-day event is organized in two sections — international awards and scientific panels — to explore topics on theology, philosophy and traditional medicine.
A total of 116 articles were received by the festival's secretariat, 48 of which were presented to the five panels.
Some 400 outstanding philosophers from Iran and other countries, 37 philosophers from the Islamic world as well as 150 scientists are present at the event.
The International Festival on Avicenna Theosophia which kicked off in Hamedan Wednesday evening will end its work on Friday.
The Avicenna Foundation was founded in 2006 with the objective of offering international awards for outstanding works on the philosophy and thoughts of Avicenna.
The foundation will also award the best works in medical sciences, philosophy as well as works which strive to introduce the achievements of contemporary scholars on Iranian and Islamic culture and civilization.
Avicenna lived in 10th century AD and mastered many scientific and scholarly fields of Arabic, Quranic studies, Fiqh (jurisprudence), philosophy, logic, algebra, medicine, astrology and theology.