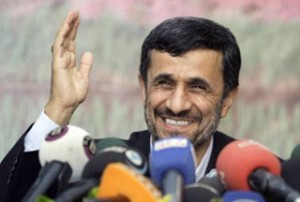 Iranian President Mahmoud Ahmadinejad says Tehran is ready to cooperate with other countries provided that they are "sincere" in their approach toward Tehran.
Addressing crowds in the northwestern city of Tabriz on Thursday, Ahmadinejad said Iran embraces "constructive" interaction with the world.
"Iran is a nation supportive of peace and friendship and backs constructive cooperation on the international arena," he said.
Tehran is therefore ready to cooperate with the international community in different arenas including the revival of economy and the establishment of stable security across the globe, he added.
Ahmadinejad, however, reiterated that the Islamic Republic expected other countries to respect the rights and the dignity of the Iranian nation.
"Iran is not after aggression. It only seeks its legal rights … Those who say they want constructive interaction should know that … if the Iranian nation witnesses a genuine transparent change of their policy … if they respect the rights of the Iranian nation … if they honestly extend their hand of friendship then the people of Iran will accept [such overture]."
Western countries should release the assets of the Iranian nation to prove that their slogan of change arises from their hearts, he added.
"They should also know that if they are after deception and corruption in our region," the Iranian nation's response will be that of the same "decisive" response that it already gave to arrogant powers, Ahmadinejad said.