Iran
Ahmadinejad meets leaders at OIC confab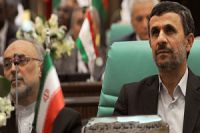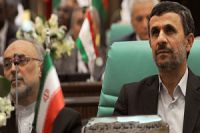 The Iranian president has held talks with several leaders of Muslim nations on the sidelines of the OIC summit in Mecca, urging expansion of ties as well as the need to establish a united front to resist meddling in the region by foreign forces.
According to Press TV, the president met with the presidents of Sudan, Tunisia, Turkey, and Guinea Bissau on Wednesday at the site of the summit of the Organization of Islamic Cooperation (OIC) in Mecca, Saudi Arabia.
In his meeting with Tunisian President Mohamed Moncef Marzouki, the Iranian president said that the Islamic Republic believes all nations must enjoy justice, freedom and integrity and the solution prescribed for Syria must also be executable in other regional countries.
He further reiterated that the Iranian nation "views the people of all Muslim countries as their Islamic brothers and would do its utmost to offer support in case they come under a threat."
In his meeting with Sudan's President Omar al-Bashir, President Ahmadinejad expressed solidarity with the Sudanese nation in their resistance against persistent pressures by outside forces, saying that resisting enemy pressures must continue until conditions change for the better.
He also called for expanded Iran-Sudan ties and collaboration not only in the political sphere but also in various economic fields and trade.
For his part, the Sudanese president expressed his condolences for the loss of lives in the recent earthquake disasters in northwestern Iran and went on to assure the Iranian president that despite foreign pressures on his country, conditions in Sudan are improving.
The two-day meeting of the OIC was held on August 14-15 upon the request of Saudi King Abdullah bin Abdul Aziz in Mecca to address major issues facing the Muslim world and the latest developments in the region.
During his visit, President Ahmadinejad paid homage to Islamic holy sites in Mecca and Medina and performed the Omra pilgrimage.