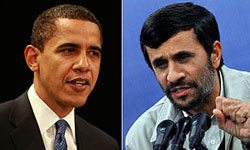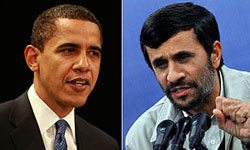 Iranian President Mahmoud Ahmadinejad said on Monday he is ready to "debate and talk" with US President Barack Obama in a public meeting before the mass media when he attends the UN General Assembly later this month.
"As we have said earlier and as we announced during Mr. Bush's tenure, we are ready to debate and talk about important global issues (with Mr. Obama) in the presence of the world media," Ahmadinejad said in his first press conference after his reelection.
"We believe that the era of secret moves and secret agreements to decide the fate of the world is over and the world nations should be aware of the developments," he added.
Ahmadinejad also announced that he would certainly attend the UN General Assembly along with his colleagues and stressed that Iran would be present in any such meetings in future.
"We oppose the current situation of the world and we believe it is our responsibility to be present in all arenas and explain our viewpoints in a bid to reform this situation," he underlined.
Iranian President Mahmoud Ahmadinejad had said in July that he wants to engage US President Barack Obama in "negotiations" before the international media.
He also had previously urged a televised debate with former US president George Bush.
The Iranian president wrote an 18-page letter to President Bush in 2006 that touched on religious values, history and international relations. The letter was viewed as an offer extended to the United States for dialogue.
However, the Iranian official's letter never received an answer from the former US president.
President Obama has adopted a new tone for engaging Tehran, drawing a sharp line between his foreign policies on Iran and that of his predecessor.
The call for talks comes as earlier in February Ahmadinejad expressed willingness for dialogue but stressed that negotiations should be held "in a climate of fairness with mutual respect".