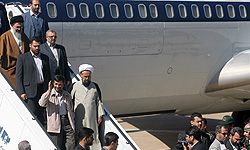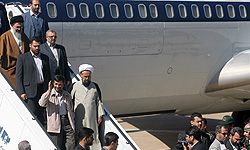 Iranian President Mahmoud Ahmadinejad on Friday wrapped up a four-nation tour of Latin America and returned to Iran.
The tour of Latin America took the Iranian president to Venezuela, Nicaragua, Cuba and Ecuador, where all the countries' leaders reiterated their support for Iran's right to access peaceful nuclear technology and defended Tehran against the threats and pressures exerted by US-led West on Iran.
In Venezuela, President Hugo Chavez defended Iran's right to develop nuclear energy and slammed tightened measures by Washington.
Ahmadinejad received the warmest welcome from the leaders of all the four Latin nations, specially from Chavez, who mocked accusations that Iran is building a nuclear weapon.
He later received the same support from Nicaragua's Daniel Ortega, Cuba's Raul Castro and Ecuador's Rafael Correa.
Asked about the western efforts to increase pressures on Iran, Ahmadinejad said, "The problem is not the nuclear issue, the problem is the independence and progress of free peoples."
"The dominant and hegemonic powers will not allow the progress and development of independent nations," Ahmadinejad added during a news conference in Ecuador.
Iran has done a raft of deals in Latin America nations ranging from housing construction agreements with Venezuela to financing for Cuba's purchases of Iranian-made train cars.
Iran has been seeking to boost its ties with Latin American countries in recent years to the concern of the United States.
Since taking office in 2005, President Ahmadinejad has expanded Iran's cooperation with many Latin American states, including Venezuela, Bolivia, Cuba, Ecuador and Brazil.
The strong and rapidly growing ties between Iran and Latin America have raised eyebrows in the US and its western allies since Tehran and Latin nations have forged an alliance against the imperialist and colonialist powers and are striving hard to reinvigorate their relations with the other independent countries which pursue a line of policy independent from the US.