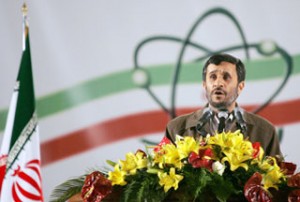 The Iranian president called on Monday for the establishment of a national commission to calculate the amount of compensation for damages Iran sustained during World War II under British and Russian occupiers.
In a letter to Head of the Presidential Office Esfandiar Rahim Mashaei, President Mahmoud Ahmadinejad tasked him with what he described as "asserting the Iranian nation's inalienable rights."
President Ahmadinejad described the level of hardship imposed on the nations of the world by global powers during the past century as "excessive."
"The Second World War was launched with the aim of creating new divisions and enforcing discriminatory, one-sided structures," President Ahmadinejad said in the letter.
He said while "a number of nations underwent pressure and suffered damages, certain governments benefited from political and materialistic profits."
Despite Iran's neutral stance in the war, the Iranian nation was placed among the "oppressed nations," Ahmadinejad said.
The Iranian president said during the invasion of Iran by both Britain and the Soviet Union in August 1941, the Allies made use of the country's infrastructure and resources to an extent that they named Iran as "The Bridge to Victory."
Pointing to the compensation received by certain countries after the conflict, President Ahmadinejad said Iran is yet to be paid compensation in return for the suffering that its people endured.
The call for the establishment of the assessment commission comes as earlier last week the Iranian president talked of plans to write to UN Secretary-General Ban Ki-moon asking for the country to be compensated.