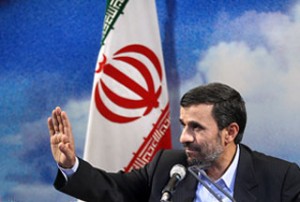 Ahead of his speech at the UN General Assembly, Iranian President Mahmoud Ahmadinejad says he will present human approaches as a solution to ongoing crises in the world.
"The Iranian nation wants peace and security for all nations," Ahmadinejad said Tuesday, moments before his departure for New York to address the 64th annual meeting of the United Nations General Assembly.
"The UN General Assembly will be a proper venue to express views of the Iranian nation and to find solutions to ongoing problems in the world that all countries complain about," he said.
He, however, added that he is ready to "hear views of others as well."
The president said he also plans to hold talks with senior officials of certain countries and meet with Iranian elite, university students and professors residing in the United States.
The visit is President Ahmadinejad's first trip to the West since he took office for a second term after the presidential election in June.
Since 2005, the Iranian president has regularly attended summits at the United Nations headquarters in New York and delivered controversial speeches.