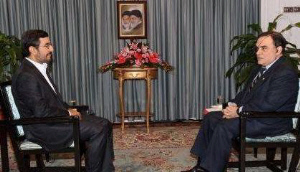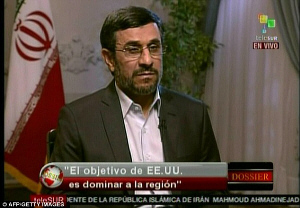 Iranian President Mahmoud Ahmadinejad on Tuesday derided the US officials for refusing to admit that Iran has guided the stealth RQ-170 Sentinel aircraft to land.
He told Venezuelan TV, Telesur, that the Americans would wait for a while to get acquainted with Iran's new capabilities. "Iran has launched mass production of advanced radar-evading drones," he said.
President Ahmadinejad smiled when asked why the US officials do not admit Iran has intercepted electronic system of the aircraft and guided it to land with no damage and said, "The Americans seem to have guided the aircraft to land in Iran themselves!"
He said that Iranian experts who managed to bring down the stealth aircraft have easily gained access to its database too.



Addressing Iran's humanitarian move to free three young Americans who had crossed Iranian border from Iraq, the Iranian President stressed Iranian nation has great civilization and does not have any problem with the American people. "The odds remain with the US ruling system," he said.
He added that Iranian public expected the US administration to reciprocate the release of the three Americans and take similar step.
"We still are not disappointed and expect them to do so, but, the colonialist background of the US ruling system will not allow it to take humanitarian step."
As for Iran's nuclear issue, he said that the US administration accuses Iran of attempting to build atomic bomb, but Iran does not need such bombs.
"Those who accuse Iran of producing atomic bomb are the same people who ruled the United States on the dark days of colonialism and they exploited the indigenous Americans and are currently plundering the wealth of other nations systematically," President Ahmadinejad went on to say.
Touching the western coalition of claimed democracy, Iranian President said the US and its allies don't believe in democracy and they prefer their own benefits to human rights. "They are imposing war on other nations to solve their own economic problems. How can they support peace and freedom?" President Ahmadinejad asked.