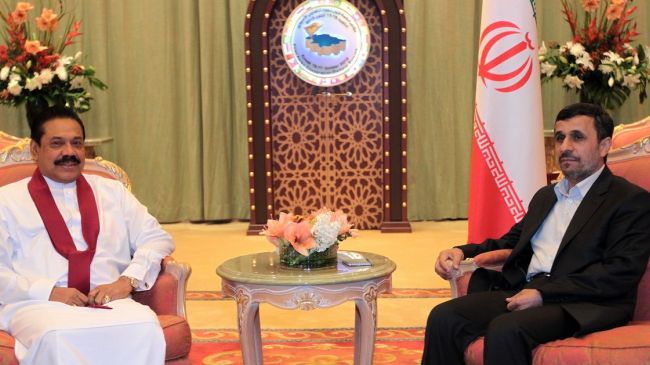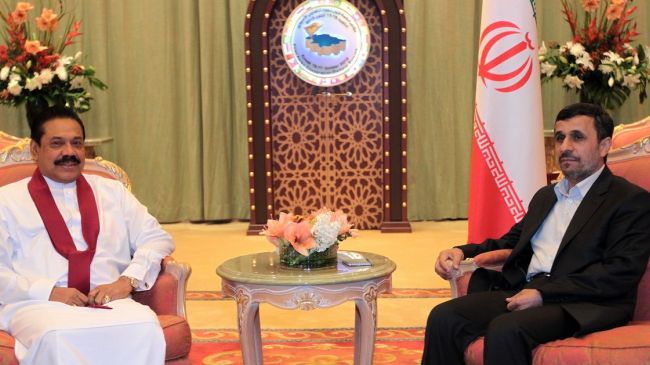 Iran's President Mahmoud Ahmadinejad has warned against arrogant powers' plots to sow discord among nations in order to maintain their hegemony in the world.
"Arrogant powers seek to cause conflict and disagreement among nations to maintain their rule and dominance over the world," said President Ahmadinejad in a meeting with his Sri Lankan counterpart Mahinda Rajapaksa on the sidelines of the first summit of the Asia Cooperation Dialogue (ACD) in Kuwait City on Wednesday.
He added that peace and security would not be preserved in the world if major powers move to make use of all tools in their hands.
The Sri Lankan president, for his part, expressed his country's determination to expand relations with Iran, calling for the removal of obstacles in the way of strengthening bilateral cooperation in various fields, particularly in energy sector.
Meanwhile, in a separate meeting with Thai Prime Minister Thaksin Shinawatra, the Iranian president censured the current world order which does not allow independent countries to restore their full rights.
"We can have good cooperation to help establish a new order in the world," Ahmadinejad said, adding the Islamic Republic sets no limitation to enhanced ties with Thailand in all fields.
The Iranian chief executive emphasized that Asian countries should promote bilateral and regional ties in various domains.
The Thai premier, for her part, voiced Bangkok's readiness to bolster cooperation with Tehran on issues of mutual interests, including economy, culture, tourism and foodstuff.
President Ahmadinejad wrapped up his official visit to Kuwait on Wednesday after he participated in the first two-day ACD summit.
Iran is one of the 32 members of the ACD, which was founded in 2002 to promote cooperation between Asian countries and to help integrate separate regional organizations, including the Association of Southeast Asian Nations (ASEAN), the South Asian Association for Regional Cooperation (SAARC), and the (P)GCC.