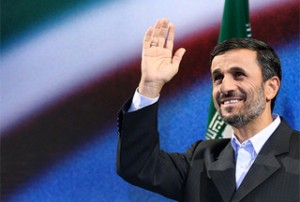 President Mahmoud Ahmadinejad has wrapped up his tour to Tajikistan and Turkmenistan, saying the two countries are determined to boost their ties with Iran.
"The three countries and the three governments are determined to further enhance their ties in different spheres," Ahmadinejad said after his arrival in Tehran on Wednesday.
"150 Iranian companies are carrying out numerous engineering projects in Tajikistan and they are using Iranian technology and equipment," Fars news agency quoted the Iranian president as saying.
"During the visit and talks with the Tajik president we agreed on carrying out new projects," he added.
Pointing to achievements in his visit to Turkmenistan he noted that "the deal to build the Iran-Turkmenistan-Kazakhstan railroad was finalized during the visit."
He also noted that the new pipeline that was launched on Wednesday will change the current "energy equations" in the region.
Ahmadinejad noted that the new pipeline will increase the amount of natural gas from Turkmenistan to Iran to 20 billion cubic feet from the current 8 billion cubic feet.